From $2,299 (or $2,399 as tested), the Dell XPS 15 OLED 2021 is a luxurious update of one of our favorite laptops. The newest versions can compete with gaming laptops in terms of processing speed, while also providing decent battery life and a practically bezel-less display in a sleek, attractive body.
The XPS 15 2020 is already among the greatest laptops on the market, but Dell has made it even better with the 2021 model, which has a 3.5K OLED screen. Dell has just introduced an OLED display option for their smaller XPS 13, and we found it to be a major upgrade over the original model, making the Dell XPS 13 OLED one of the finest Windows laptops available.
Spending time with the OLED-equipped version of its older sister has convinced me that the current trend of equipping ultraportables with high-quality OLED screens is a really positive thing for anybody concerned about picture quality. The Dell XPS 15 OLED is a worthy upgrade over the standard XPS 15; it costs roughly $1,000 more, but the improvements you get, both in terms of display quality and upgraded components, more than justify the price difference.

Price: ~$2,400 (as reviewed)
Display: 15.6-inch OLED touchscreen (3,456 x 2,160 pixels)
CPU: Intel Core i7-11800H
GPU: Nvidia GeForce RTX 3050 Ti
RAM: 16 GB
Storage: 512 GB SSD
Ports: 3 Thunderbolt 4/USB-C ports, headphone jack, microSD card reader
Size: 13.57 x 9.06 x 0.71 inches
Weight: 4.2 pounds
Dell XPS 15 OLED review: Price and configurations
OLED display effectively a nearly $1,000 upgrade
Expect to pay at least $2,300 to get it
The base model of the 2021 Dell XPS 15 costs $1,273. You'll need the more recent XPS 15 9510, not the older XPS 15 9500, if you want the model with the optional OLED panel, so be sure to choose the "New XPS 15" option.
Review unit specifications for our Arctic White XPS 15 OLED included a Core i7-11800H processor, an Nvidia RTX 3050 Ti graphics processor for laptops, 16GB of RAM, and a 512GB M.2 NVMe solid state drive. It now costs roughly $2,399 to purchase the identical model from Dell (opens in new tab) or Best Buy (opens in new tab).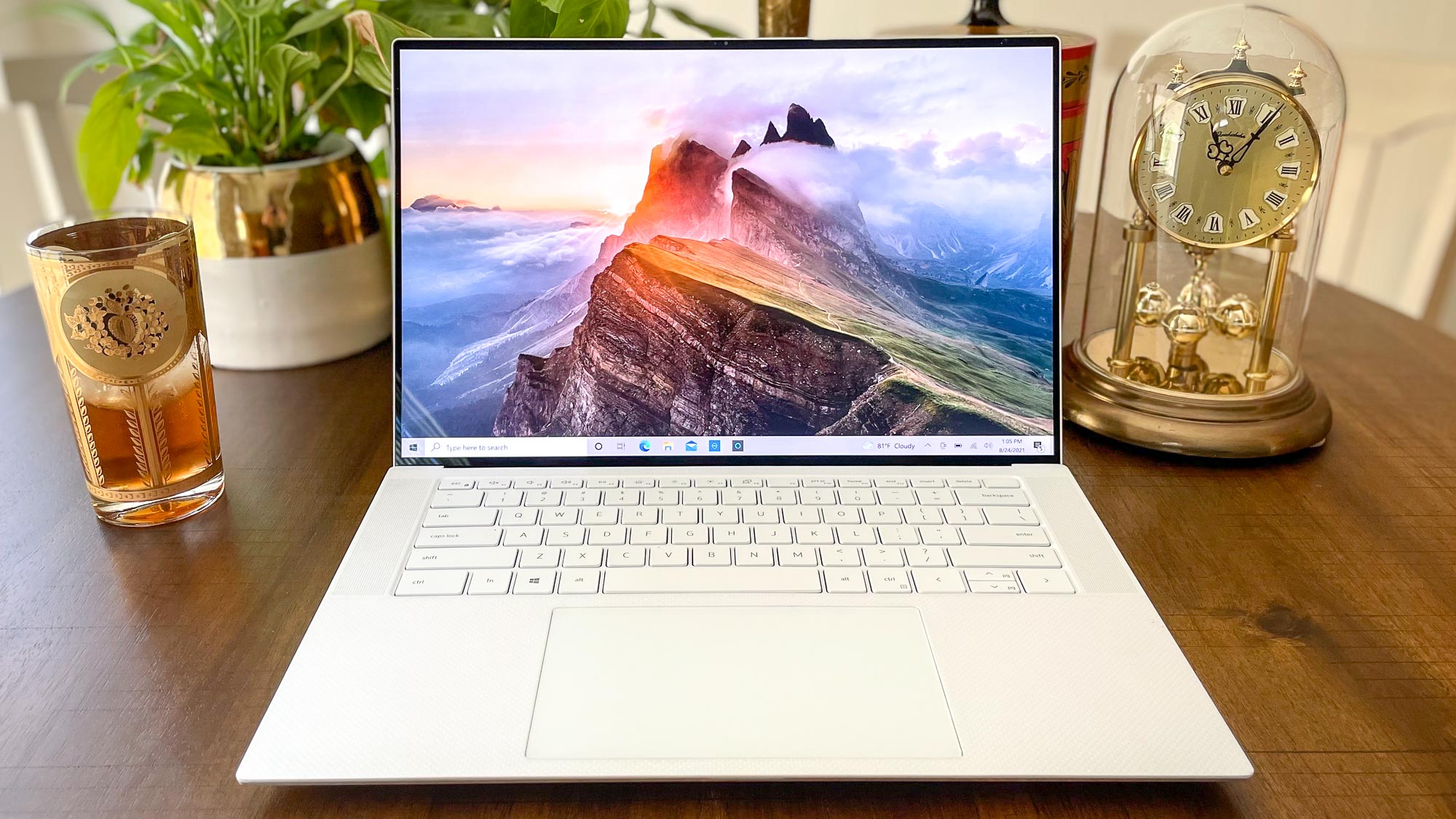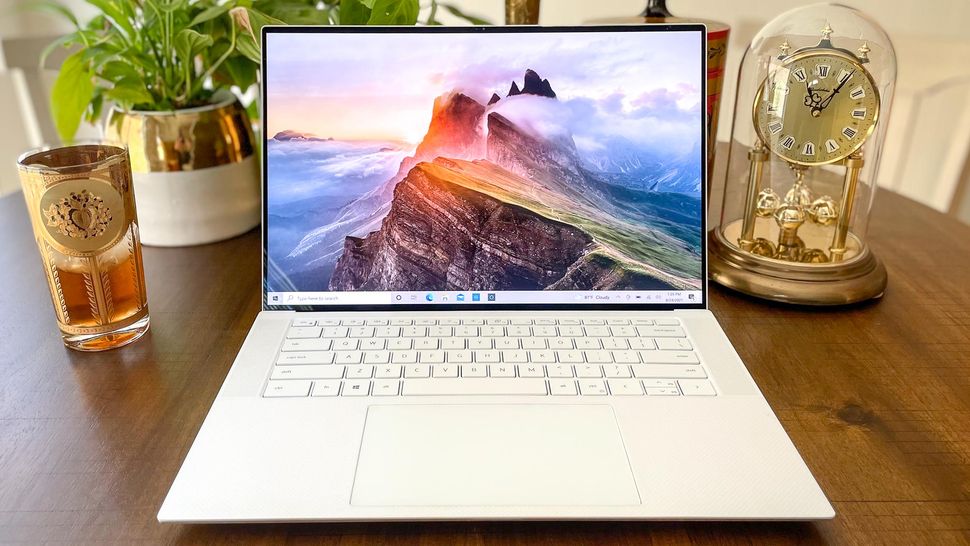 The 3.5K OLED touchscreen is officially approximately $1k more expensive than the baseline FHD+ LCD display since Dell only offers it on mid-range and higher models. The OLED display is currently only available on the XPS 15 with a minimum configuration of an 11th generation Intel i7 processor, a 45W Nvidia GeForce RTX 3050 graphics processor, 16GB of RAM (instead of the standard 8GB), and a 512GB solid state drive (instead of the standard 256GB).
The base price for the XPS 15 with OLED is $2,299, but you can spend much more on memory, storage, and processing power upgrades. The standard Platinum/Black XPS color scheme is not unappealing, but for an additional $50, you can have the striking Frost/Arctic White paint job.
Slim, attractive chassis still a bit hefty at 4.2 pounds
InfinityEdge design continues to impress
The sleek chassis of the Dell XPS series looks great on a desk, and the 16:10 display, with its incredibly thin bezels on all four sides, provides a more immersive viewing experience than that of most laptop screens, earning the XPS series numerous accolades from Tom's Guide.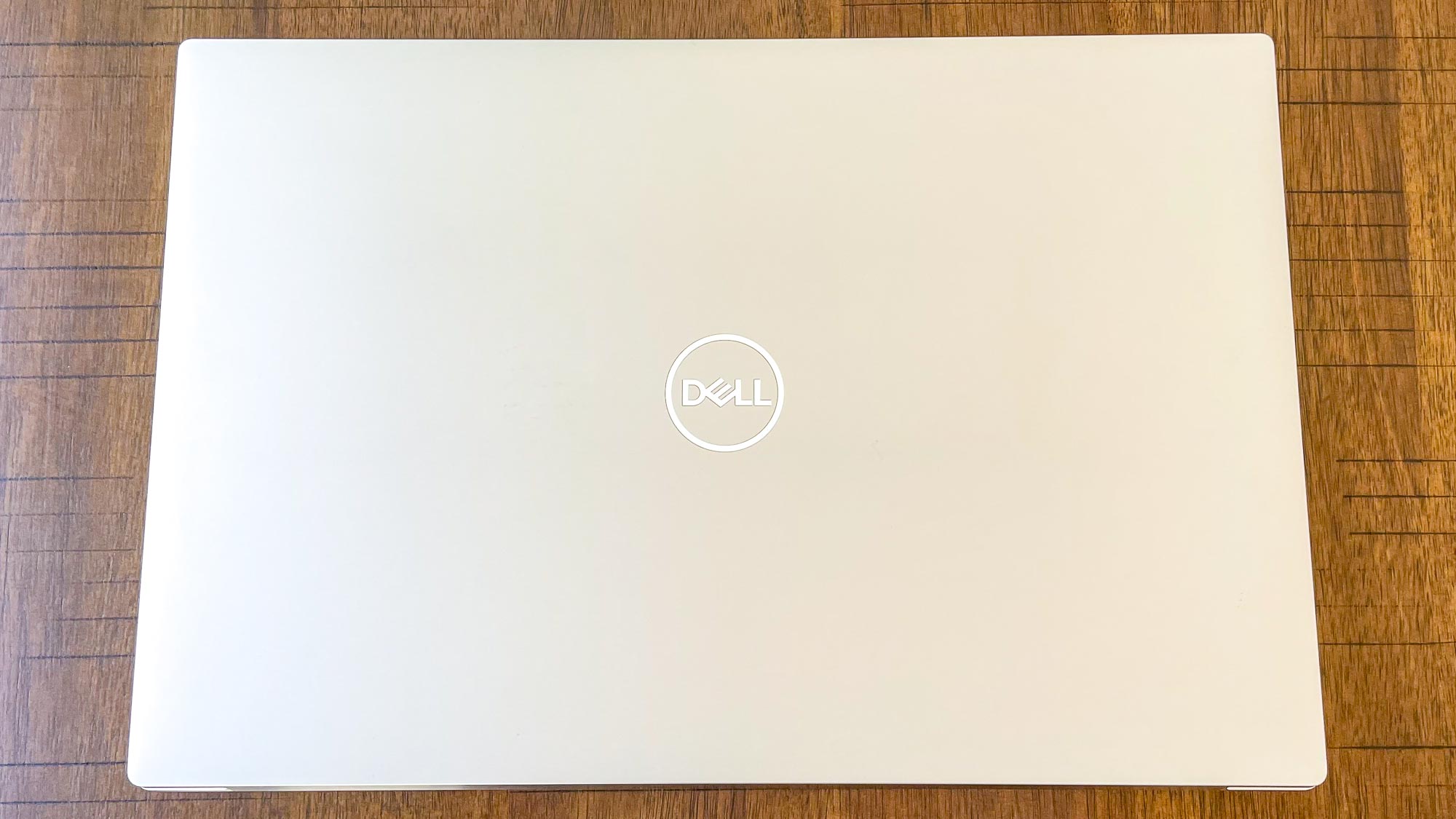 Review unit for the XPS 15 measures 13.57 x 9.06 x 0.71 inches and weighs 4.2 pounds; this makes it somewhat smaller and lighter than the Intel-powered 16-inch MacBook Pro. The XPS 15 is lightweight enough to be carried about in a bag or backpack, but it's still noticeable enough to be a burden to carry around all day.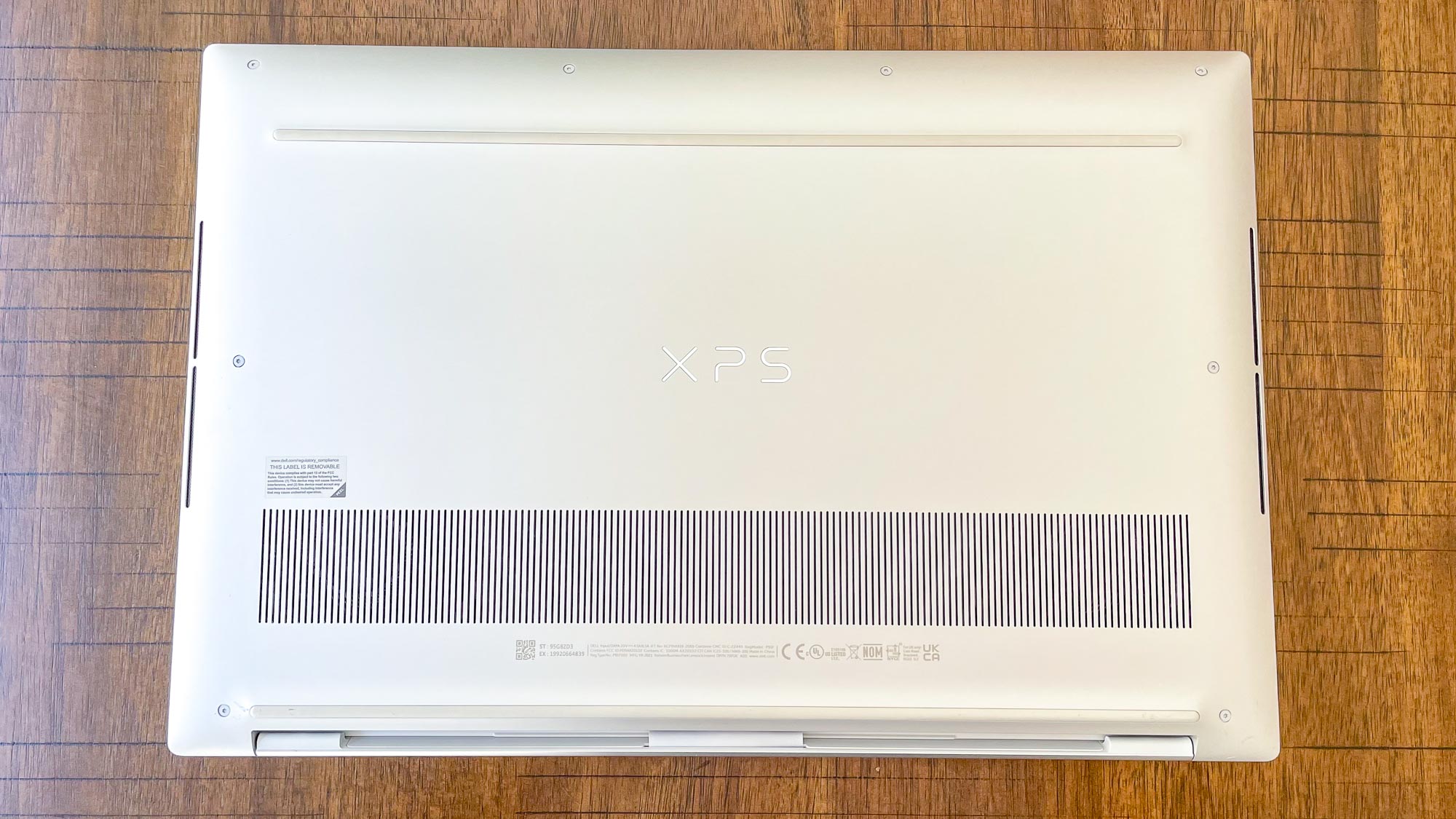 I should note that the laptop will be slightly lighter if you opt for a model without a touchscreen; however that will also prevent you from getting the OLED display, as that's only available as a touchcreen.
Dell XPS 15 OLED review: Ports
Plenty of USB-C ports
Included USB-C to USB-A adapter is a nice touch
The XPS 15 OLED has a decent selection of ports for a laptop of this size. Along the right edge you'll find the 3.5mm audio jack, a microSD card reader, and a USB-C port.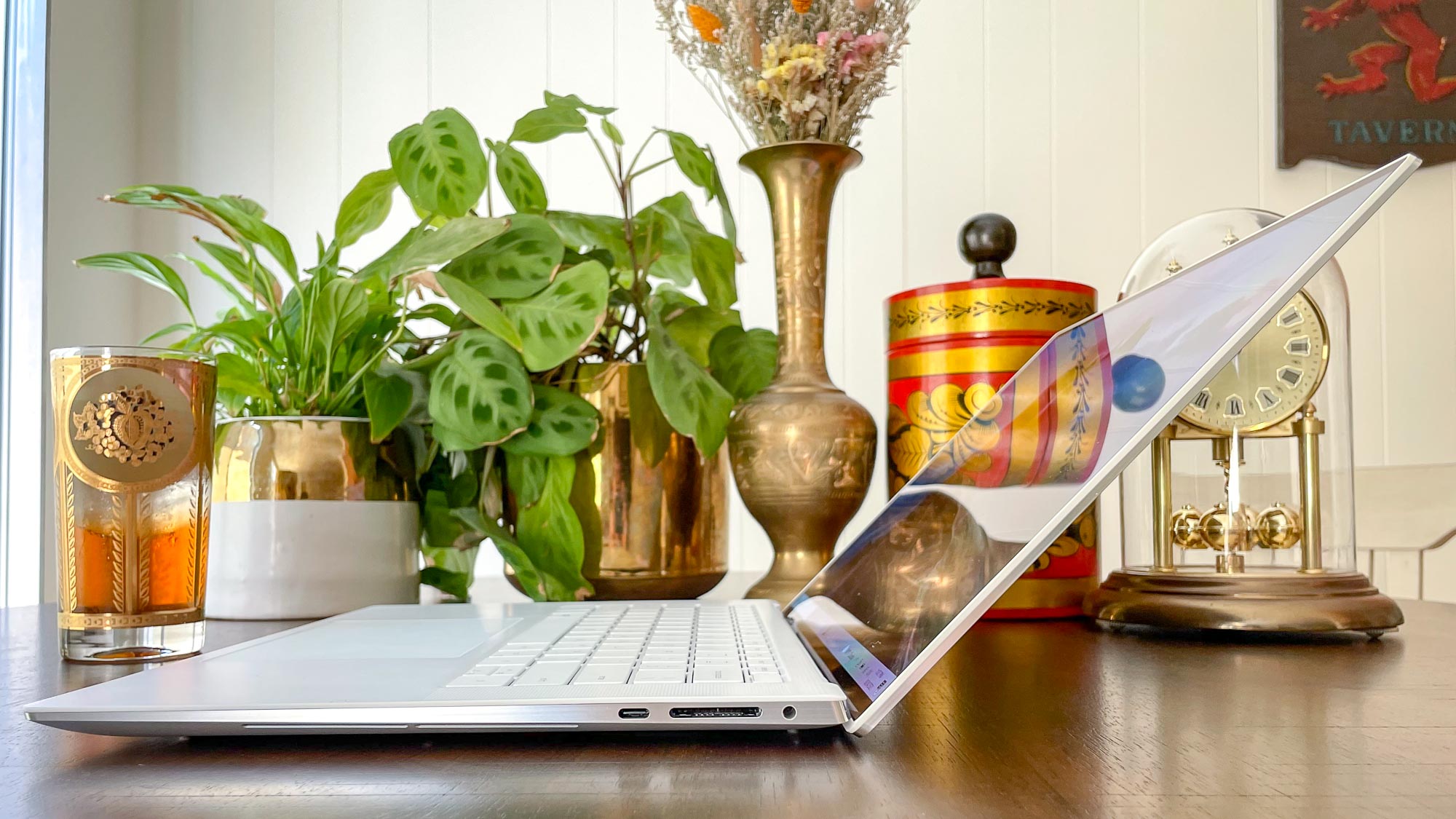 On the left edge are two more USB-C ports, as well as a security slot you can slide a Kensington lock into to keep the laptop secured to something while you, say, step away to order another coffee.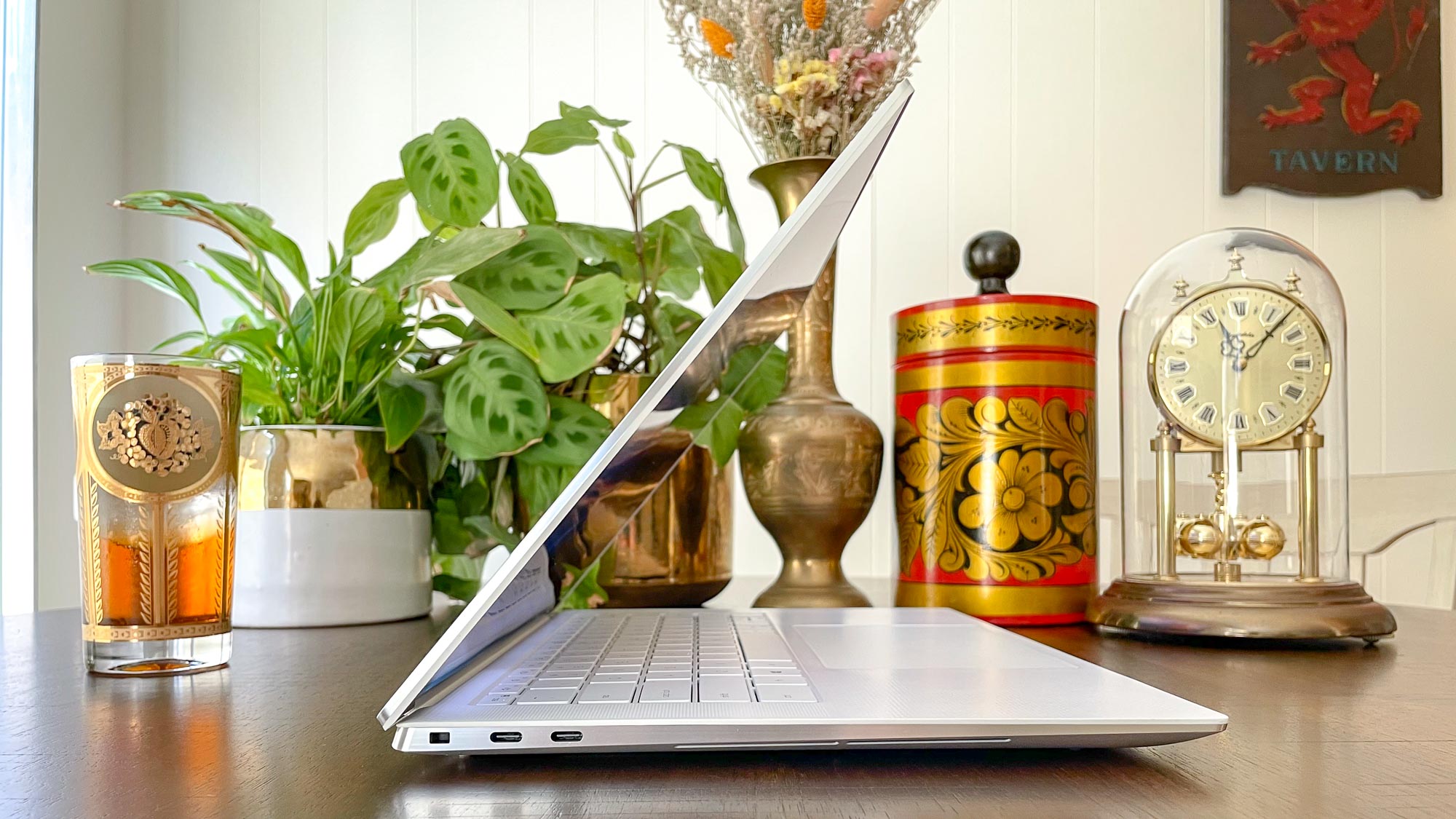 The USB-C power adapter can be easily plugged into one of the XPS 15 OLED's two USB-C ports on each side, and those of you who still have cherished USB-A laptop peripherals may take solace in the fact that Dell includes a USB-C to USB-A converter. This is a little improvement, but it's one I hope more laptop manufacturers adopt when USB-C ports become the standard.
Dell XPS 15 OLED review: Display
OLED display looks fantastic with rich colors and impressive contrast 
3.5K resolution great for entertainment, less so for reading text
This XPS 15 OLED really shines because to its stunning 3.5K OLED screen, which makes everything from movies to video games seem stunning in person. OLED is what makes this update significant, not the higher resolution (3.5K).
The original 3,456 x 2,160-pixel resolution of the screen is remarkable, particularly when viewing high-quality films, but I doubt you'll really notice the difference in day-to-day usage. Because of this, reading text on the 15.6-inch display is a real hassle unless you use Windows' in-built display scaling.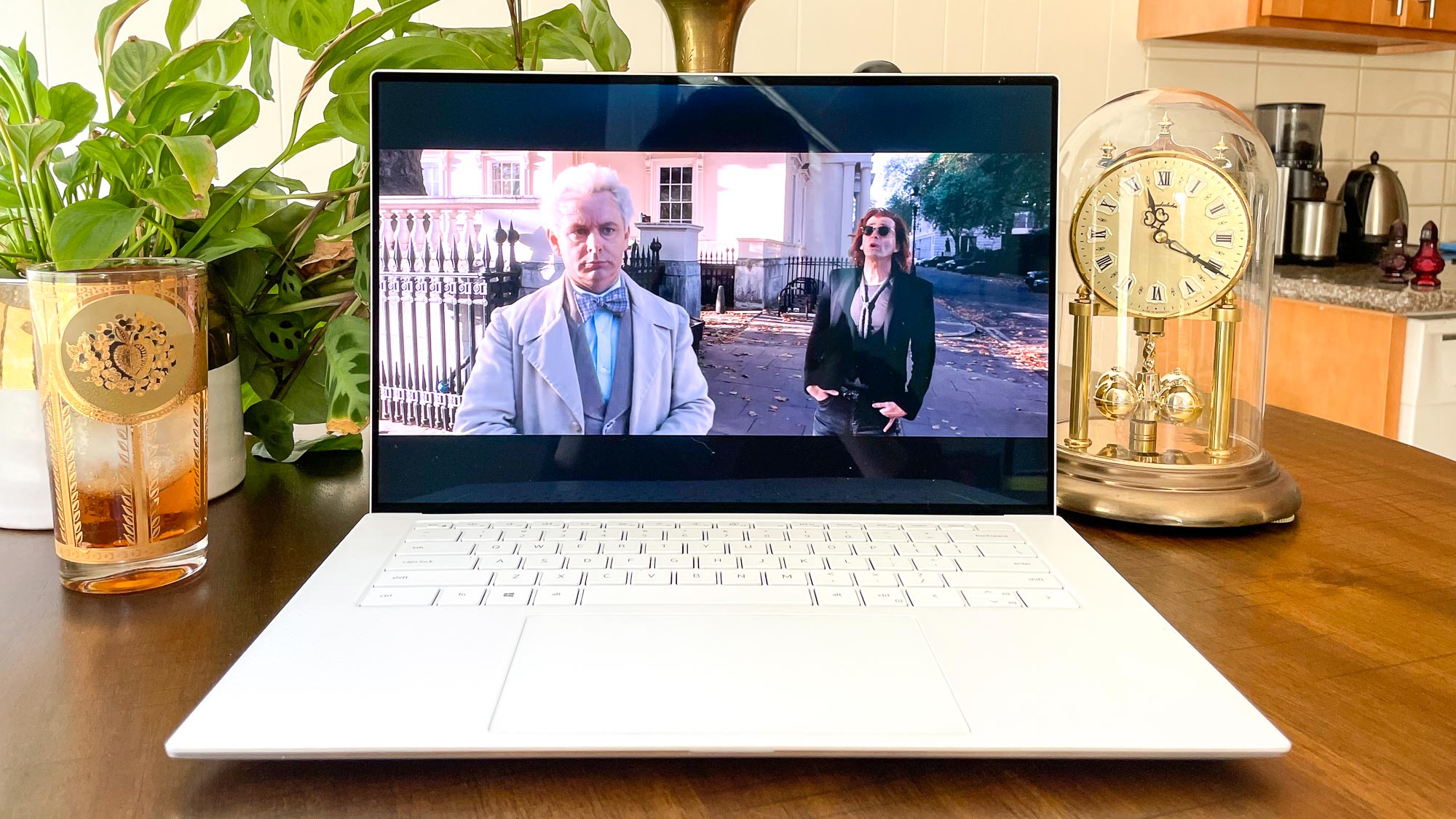 On the other hand, the XPS 15's OLED screen makes viewing 4K HDR material a real pleasure. OLED screens provide incredible contrast, vivid colors, and deep blacks because each pixel has its own light source that can be turned on and off individually.
As an example, when seeing Good Omens once again, I noted that the colors looked fantastic, and that the lighting effects, such as the way it played over Aziraphale's white hair and Crowley's black suit, were very subtle but distinct. This OLED screen, in short, provides the kind of realism that you're used to in real life but seldom get to experience while viewing films on a laptop.
Dell XPS 15 OLED review: Audio
Audio sounds loud and clear
Bass lacks punch
The XPS 15's speakers pump tunes out of small speaker holes on each side of the keyboard deck, and they do a fine job of it. That way, whether the XPS 15 is on a lap or a table, the audio will be crystal clear and audible.
As for loudness, they can become rather loud; with the laptop volume set to half-way, I could hear Marvin Gaye's Inner City Blues playing clearly from several rooms away. Bass in songs like "Angel" by Massive Attack and "Dark Horse" by Katy Perry is clear but lacks power, while the vocals are warm and bright.
Dell XPS 15 OLED review: Performance 
Excellent all-around performance
GeForce RTX 3050 Ti GPU makes this a decent gaming machine
If you care about performance, this stunning creature is a monster. Our evaluation model of the XPS 15 with an Intel Core i7-11800H processor easily handled my regular work and benchmarked at an average of 7,477 in the Geekbench 5.4 multicore CPU test. Compared to other 15-inch laptops, such as the Samsung Galaxy Book Pro 360 (5,575), the Microsoft Surface Laptop 4 (6,748), the Apple MacBook Pro (with M1) (5,945), and the Razer Blade 15 Advanced (with a score of 5,575), it is an incredible result. (6,662).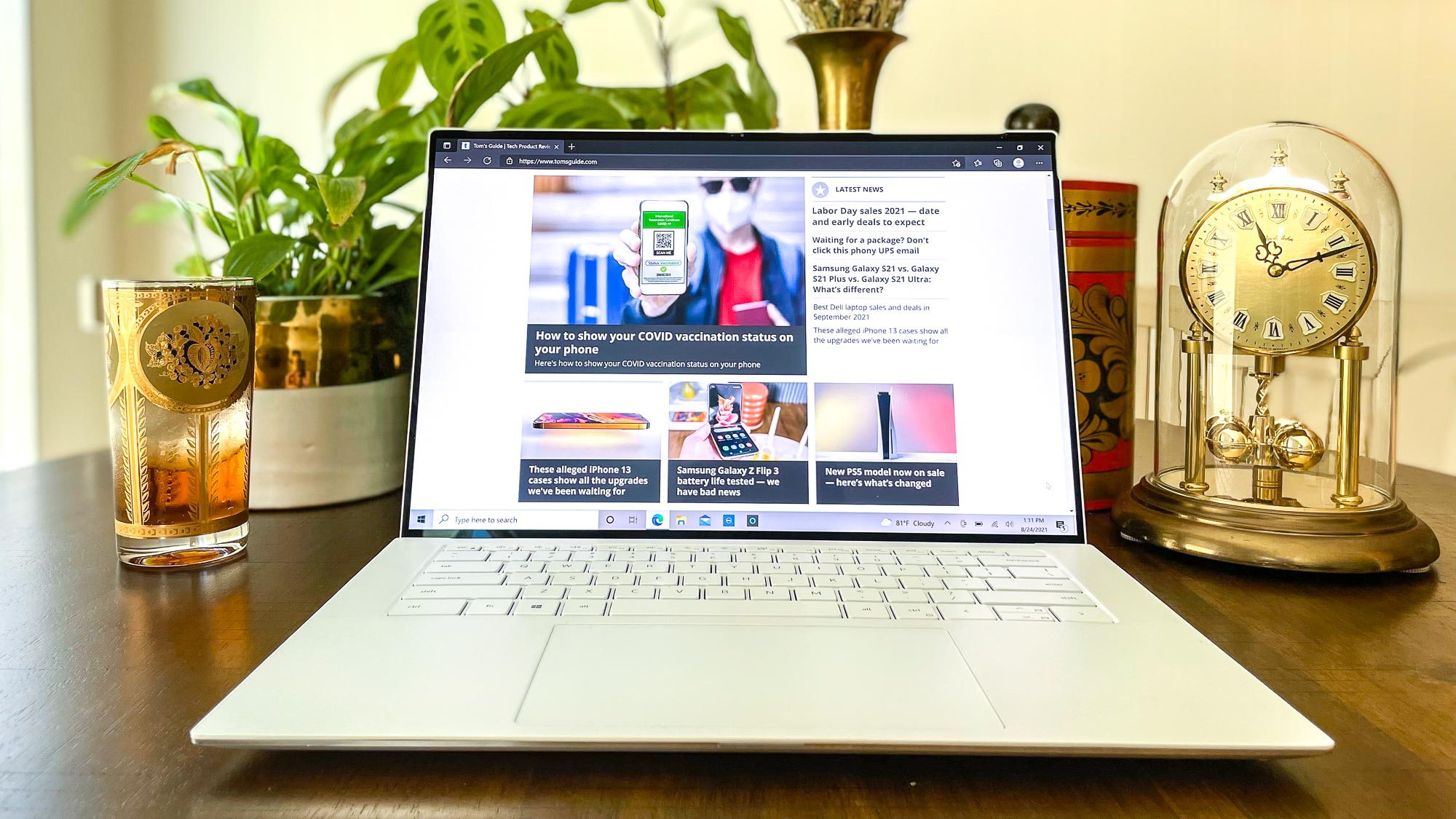 Our 2021 XPS 15 with a 512 GB M.2 NVMe SSD achieved a transfer rate of 825.6 MBps in our file transfer speed test, which measures how rapidly a laptop can copy 25 GB of multimedia files. That's really quick, and it beats the Surface Laptop 4 (372.49 MBps) on the 15-inch screen, but it's slower than the Samsung Galaxy Book Pro 360. (869.5 MBps).
Our evaluation unit's i7 processor, 16 GB of RAM, and RTX 3050 Ti laptop graphics card made the XPS 15 an excellent choice for video editing. Our XPS 15 OLED took 8 minutes and 10 seconds to pass the Handbrake test, which measures a laptop's ability to downscale a 4K film to 1080p. That's faster than the M1-powered MacBook Pro, but slower than the Galaxy Book Pro 360 (16:24) or the 15-inch Surface Laptop 4 (8:21). (7:46).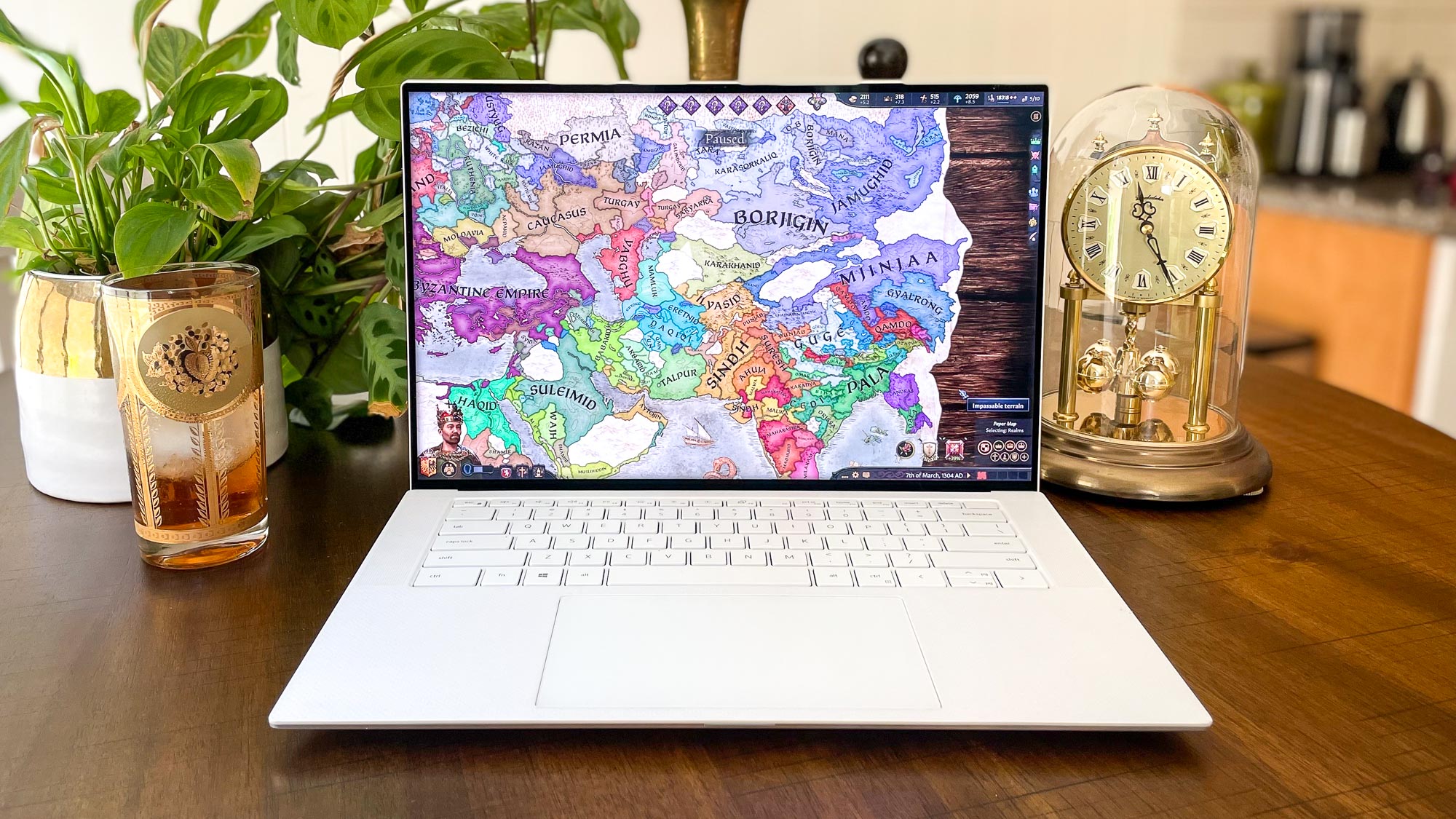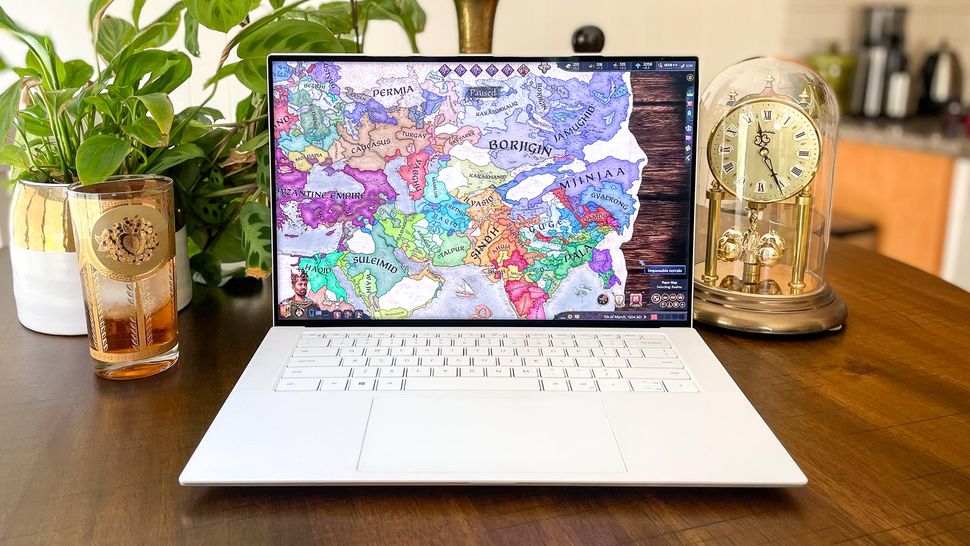 The 11th generation Intel Core i7 processor and the dedicated Nvidia graphics card make the review sample of the XPS 15 a capable gaming rig. Sid Meier's Civilization VI: Gathering Storm is a graphics benchmark that we were able to run at 1080p with an average framerate of 67.1 frames per second on the XPS 15, while at its original resolution of 3,456 x 2,160, we were only able to get an average framerate of 41.9 frames per second.
And, just as anecdotal evidence, I had a great time playing relatively demanding games like Battletech and Apex Legends on the XPS 15 OLED, and they were able to keep up a steady 30 frames per second even with all the visual settings on maximum.
Dell XPS 15 OLED review: Keyboard, touchpad and touchscreen
Keyboard and touchpad are spacious and comfortable
Touchscreen works great, but beware fingerprints
I have large hands, and the XPS 15's keyboard gives me plenty of area to type. After getting used to the size of the keys, I was able to type at a speed of 110 WPM on the 10fastfingers.com test, so you shouldn't feel too cramped even during marathon bouts of typing. A fingerprint scanner is integrated into the power button in the upper right corner of the keyboard, allowing you to quickly lock and unlock the laptop with a touch of your finger.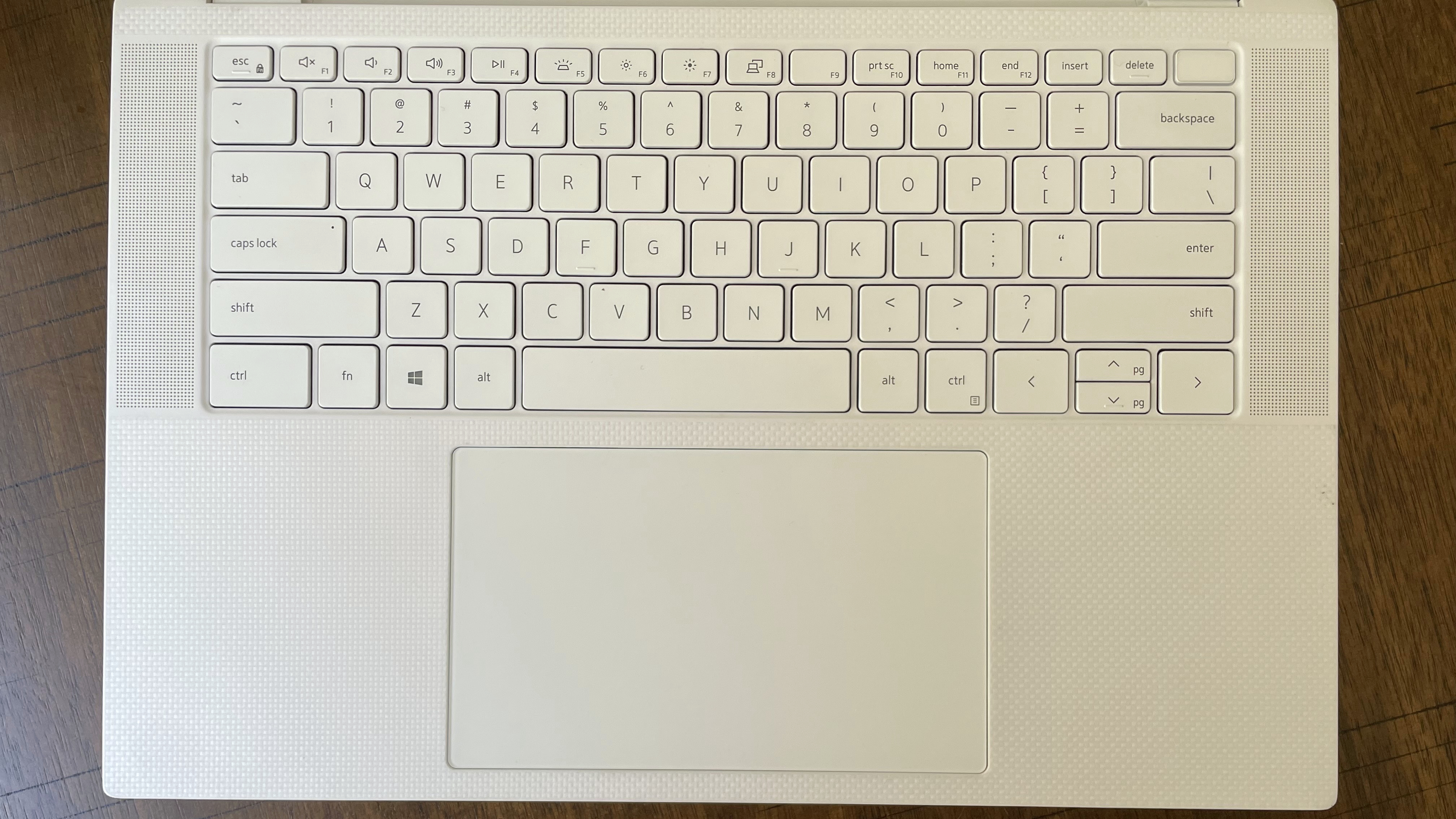 Clicking, dragging, and swiping my way about Windows is a breeze on the touchpad that sits underneath the keyboard. If you want to navigate using Windows gesture instructions, it will pick them up just well.
Although the 3.5K OLED display is quite simple to operate, fingerprints will show up over time on the touchscreen. Even though I tried to keep my hands clean (sorry, Cheetos lovers) and touch gently, I still managed to leave some fingerprints on the screen during my brief time examining the laptop. Keep a screen cleaning cloth in your laptop bag and use it often for the best results.
Dell XPS 15 OLED review: Webcam
720p webcam delivers grainy, washed-out images
IR cameras allow you to use Windows Hello facial logins
The 720p camera in the XPS 15's OLED display's top bezel is adequate for its intended purpose, but it won't do much to improve your appearance in online videos. Grainy and drab photos are captured by the camera, and I noticed that when I used it for early morning video conversations, I looked much more tired and pale than normal.
Although laptop webcams aren't usually something to brag about, with more individuals working from home in light of the COVID-19 scare, they should be. It's nice that laptops like the HP Elite Dragonfly Max and the Framework Laptop have 1080p cameras, and it would be much better if the XPS range followed suit.
The XPS 15 lacks a fingerprint reader, but it does include a built-in IR camera for use with Windows Hello, if that's more your speed.
Dell XPS 15 OLED review: Heat
Gets warm under pressure, but never a lap-scorcher
While playing games and using other resource-intensive software, the XPS 15 may grow warm, I never had any discomfort or worried that my lap would get burnt during my hands-on testing. The only time I really heard the fans was when I was playing games, and even then, it was usually just background noise.
After letting the laptop play a high-definition film for 15 minutes while sweeping a heat gun over it, we measured a maximum temperature of 98 degrees Fahrenheit at the chassis. Above the F6 key turned out to be the warmest part of the keyboard.
Dell XPS 15 OLED review: Battery life
Disappointing 7-hour battery life
The XPS 15 with an OLED display has a disappointing battery life. Our XPS 15 review unit lasted 6 hours and 58 minutes in our battery test, which had the laptop connected to Wi-Fi and constantly browsing the web with the screen brightness set to 150 nits.
This is enough for a few hours of working away from home at a coffee shop, but it won't carry you through the whole day without a recharge. The high-resolution screen, in addition to the discrete Nvidia GPU's power consumption, may be to blame, since 4K panels typically use more battery life than 1080p displays.
The battery life of other laptops of this size with lower resolution displays, such as the Samsung Galaxy Book Pro 360 (13:30), the Microsoft Surface Laptop 4 (15″) (12:03), and the 16″ Intel-powered MacBook Pro (11:35), is much better. (10:55).
Dell XPS 15 OLED review: Verdict
The Dell XPS 15 OLED is a fantastic computer that successfully straddles the line between a thin ultraportable and a powerful gaming laptop. Although I would like more reasonable pricing, anyone willing to spend over $2,000 on the OLED update will get a terrific Nvidia RTX laptop GPU and a strong Intel Core i7 CPU housed in a sleek and stylish frame.
You may buy smaller laptops with OLED displays for less money if you don't require as much processing power. For example, for roughly a thousand less dollars, you can get Samsung's 15-inch Galaxy Book Pro 360, which is also a fantastic 2-in-1 laptop with a gorgeous AMOLED display and exceptional battery life. Although the AMOLED screen only supports 1080p resolution and there is no expansion slot for a dedicated graphics card, these drawbacks will be negligible if you don't intend to do anything in the way of serious gaming.
Even so, the Dell XPS 15 OLED is a great choice if you need a Windows ultraportable with a stunning display and enough power to run most games at playable framerates.
Alex Wawro has been writing about technology and gaming for over ten years, including publications such as Game Developer, Black Hat, and PC World. He has been building computers for as long as he can remember, and now he spends his days as a senior editor at Tom's Guide, where his beat includes everything from portable devices to stationary workstations.