Each year, we test hundreds of different business laptops, and the ones that end up on our list of favorites are the ones that strike a balance between portability, speed, and battery life. Think about protection and longevity, too; many corporate laptops have military-grade durability and have fingerprint sensors, infrared cameras, and security processors as standard equipment. Webcam sliders and screens with in-built privacy filters are available on certain models for the most paranoid users.
Lenovo's ThinkPad X1 Carbon is our favorite business laptop for five years running thanks to its lightweight design, fast performance, and strong display options. Apple has strong options in the MacBook Air M2 or any of the MacBook Pro models, while Dell, Microsoft, and HP all offer compelling options at varying price points.
Read on for a more detailed look at our top picks and we'll find the perfect fit for you.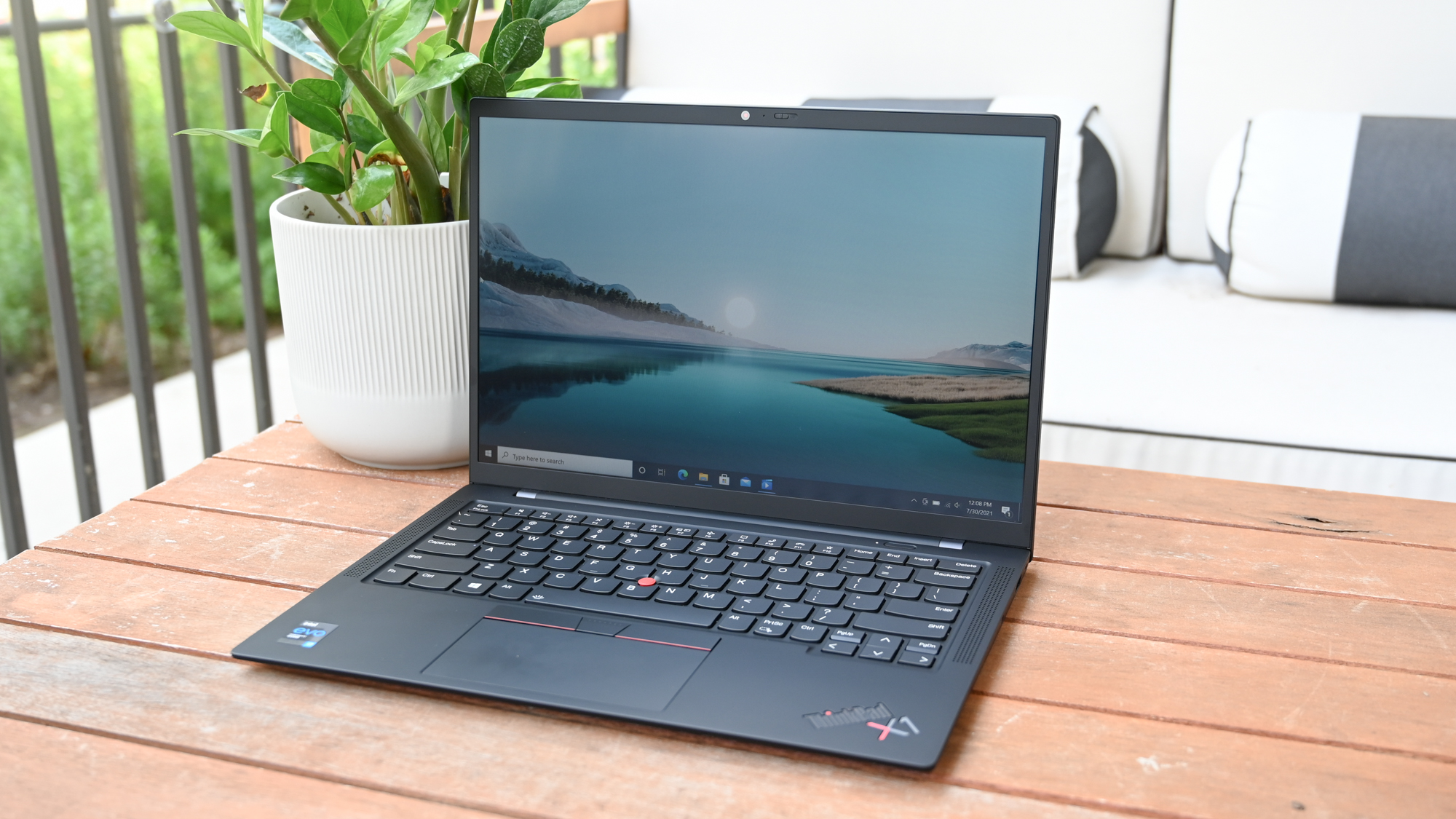 Best business laptops overall
Specifications
CPU: 11th Gen Intel Core i5/Core i7
GPU: Iris Xe
RAM: 8GB/16GB/32GB
Storage: 256GB/512GB/1TB SSD
Display: 14-inch, 1920 x 1200-pixel 16:10
Size: 12.4 x 8.7 x 0.6 inches
Weight: 2.5 pounds
Reasons to buy
Slim, lightweight design
Good 14-inch, 16:10 FHD+ display
Class-leading keyboard
Great quad speakers
Epic battery life
Reasons to avoid
Poor 720p webcam
No card slot
Lenovo's 9th Gen edition of its flagship business laptop delivers fast performance from 11th Gen Intel CPUs, you get longer battery life (15 hours!), powerful quad speakers, a new 14-inch display with a 16:10 aspect ratio, and plenty of ports, all in an impossibly lightweight chassis (2.5 pounds).
But it's still those classic ThinkPad features —  a durable design (with MIL-STD-810G strength), best-in-class keyboard and stealthy black/red aesthetics — that carry the X1 Carbon to greatness.
Yes, we wish the ThinkPad X1 Carbon had a better webcam and hadn't ditched the SD card reader in the previous. Also, top configurations can get very expensive; still, you'd be hard-pressed to find a better business laptop.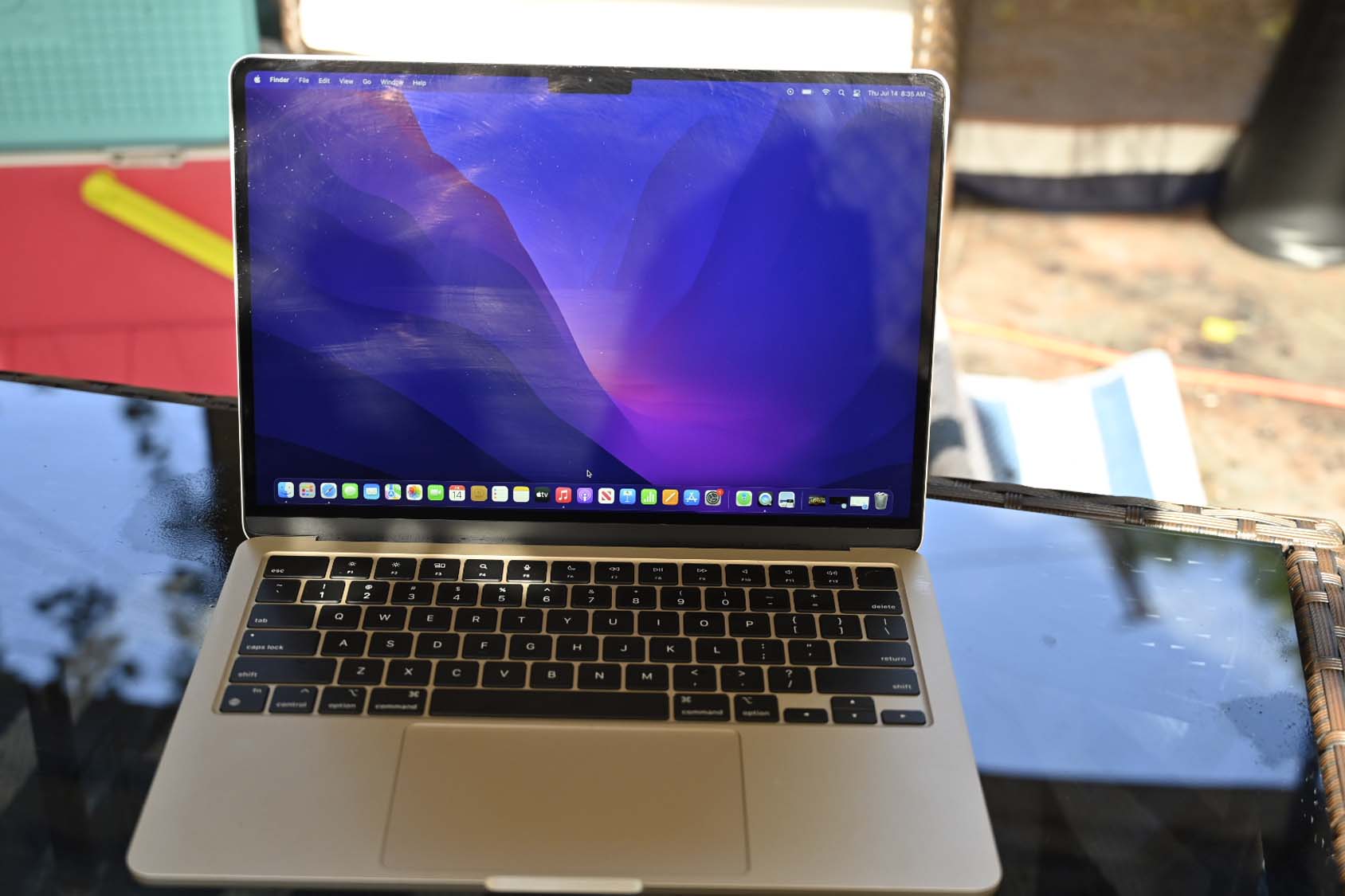 best business laptops from apple
Specifications
CPU: Apple M1 Pro
GPU: Apple M1 (integrated)
RAM: 16GB/32GB/64GB
Storage: 512GB/1TB/2TB/4TB/8TB
Display: 14.1-inch, 3024 x 1964-pixel
Size: 12.3 x 8.7 x 0.6 inches
Weight: 3.5 pounds
Reasons to buy
Elegant redesign
Good performance
Bright, colorful screen
Comfortable keyboard
Excellent battery life
Reasons to avoid
SSD is somewhat slower than M1 Air
The MacBook Air M2 is an almost ideal notebook, introducing the new look from the MacBook Pro 14 and 16 and a magnificent new 13.6-inch display while maintaining the same great performance and battery life we've come to expect from Apple Silicon.
For those comfortable in the macOS environment, this laptop offers a combination of power and mobility that is unmatched by Windows machines. The Air M2's SSD has a little slower write speed compared to the previous model, but this is still above average and should not dissuade you from purchasing the laptop.
While you have a pair of USB-C ports and the new MagSafe charging port, if you are looking to escape carrying a USB-C hub with you then you will need to look to the MacBook Pro 14, which sports an HDMI port, an SD card slot, MagSafe and a trio of Thunderbolt 4 ports (sadly, still no USB-A). If battery life is your biggest concern then the MacBook Pro 13-inch M2 is your best choice with over 18 hours on a single charge in our test! It didn't get the updated design of the Air this year, but its performance remains outstanding.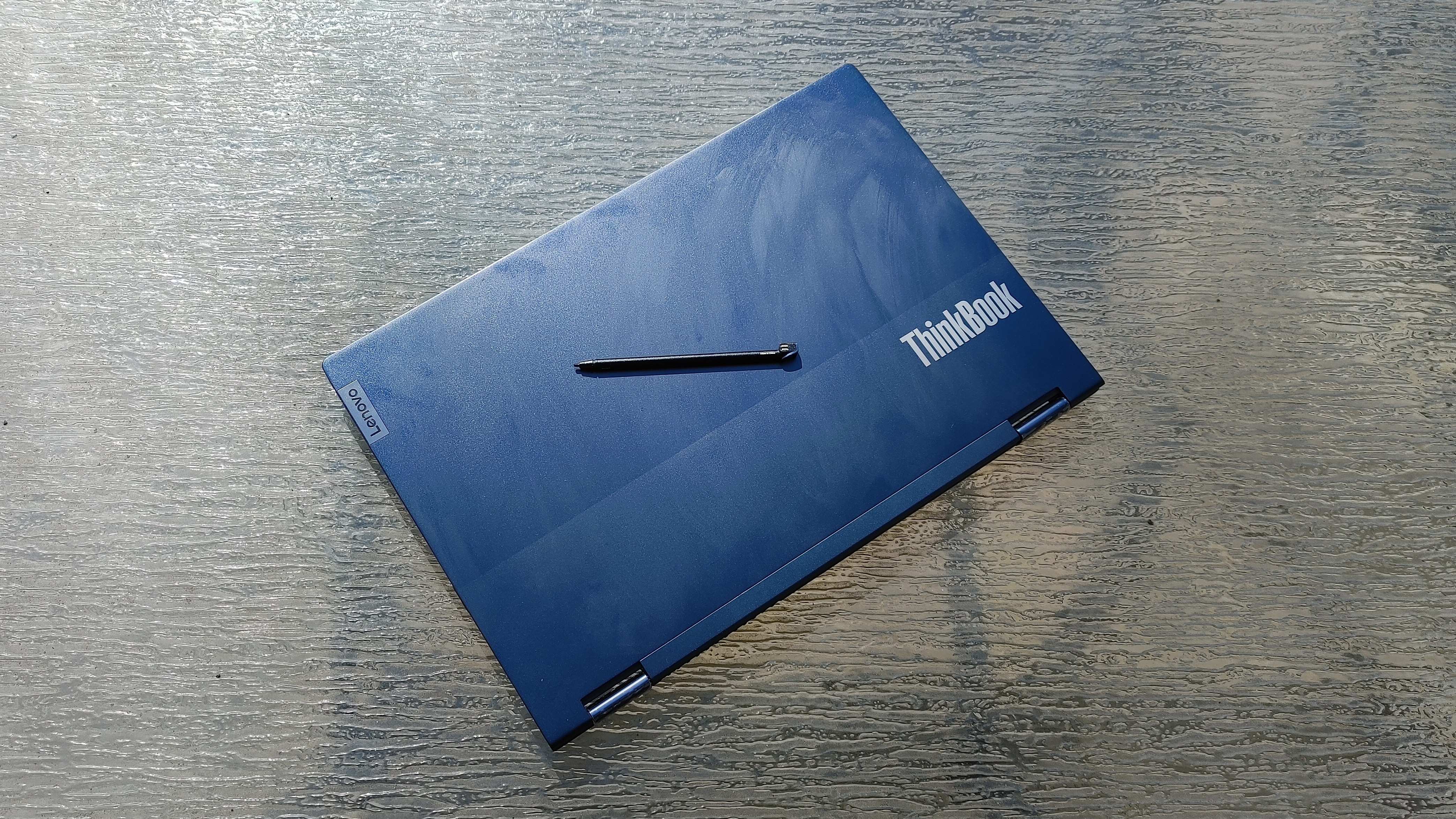 The best business laptop under $1,000
Specifications
CPU: Intel Core i5-1135G7
GPU: Intel Iris Xe
RAM: 16GB
Storage: 512GB
Display: 14-inch, 1080p
Size: 12.6 x 8 x 0.7 inches
Weight: 3.3 pounds
Reasons to buy
Robust build quality
Smart Pen included
Fingerprint reader in the power button
Reasonably priced
Reasons to avoid
Quiet speakers
Fingerprint-attracting chassis
With its long battery life, respectable performance, and integrated Smart Pen, the ThinkBook 14s Yoga is an excellent 2-in-1 for about $1,000.
A well-rounded laptop that won't let you down in any category, it just couldn't quite beat out the competition for first place in our benchmarks.
If you're looking for a powerful 14-inch convertible designed for the business that doesn't cost more than $1,000 and comes with a Smart Pen, go no further than the ThinkBook 14s Yoga.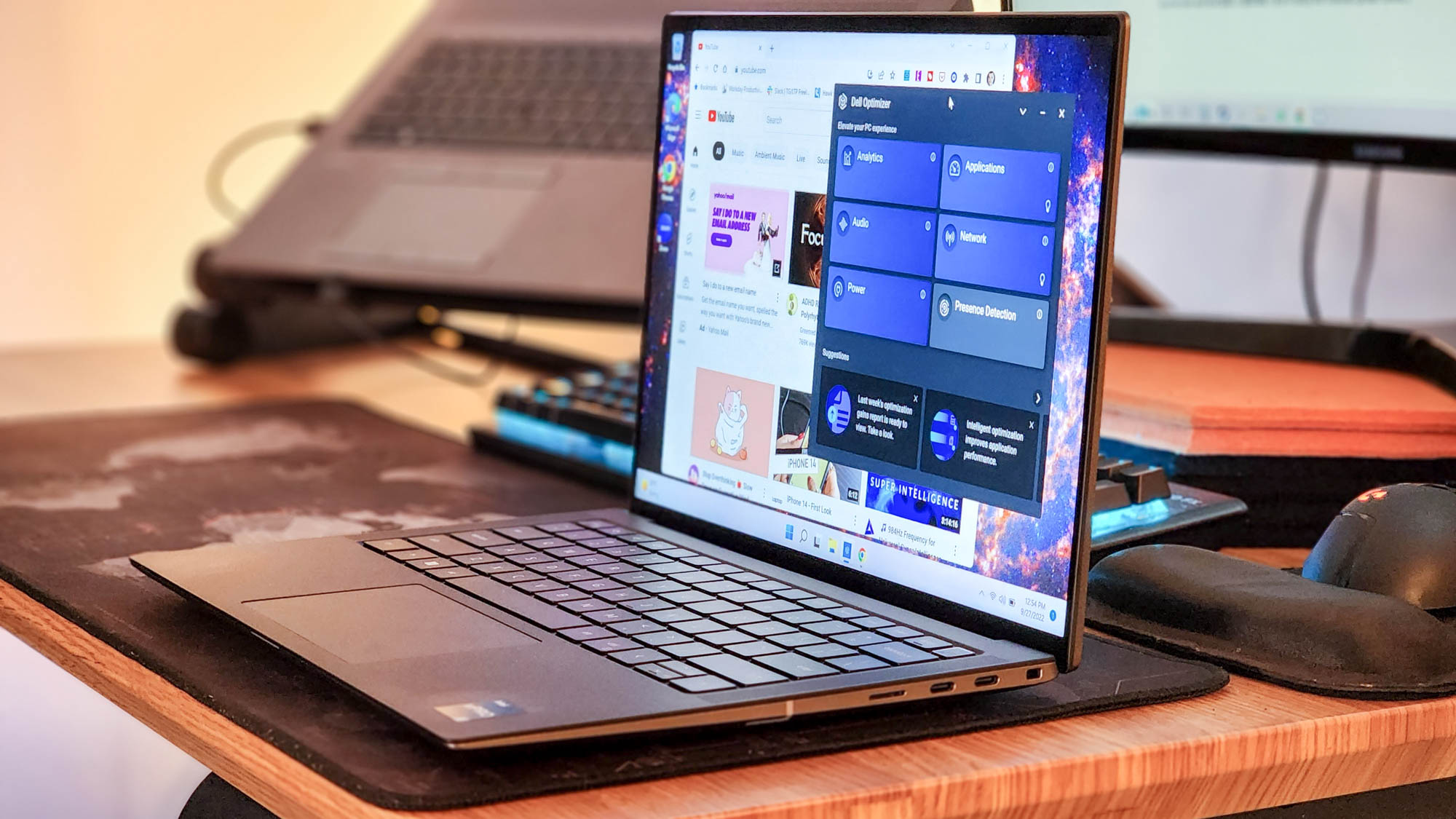 The best business laptop for workstation
Specifications
CPU: Intel Core i9-12900H CPU
GPU: Nvidia RTX A1000
RAM: 32GB
Storage: 1TB
Display: 14-inch, 1920 x 1200-pixel IPS (16:10)
Size: 12.2 x 8.3 x 0.7 inches
Weight: 3.3 pounds
Reasons to buy
Powerful performance
Sleek chassis, premium design
Beautiful InfinityEdge touchscreen
Outstanding battery life
Advanced thermals keep things cool
Reasons to avoid
Lacks USB-A or HDMI ports
The Dell Precision 5470, which has a perfect score of 5, is only ranked fourth. The reason is obvious: not all business travelers need such a powerful laptop. The Nvidia RTX A1000 graphics processing unit and Intel Core i9-12900H central processing unit identify this laptop as a workstation. It's not as powerful as the finest gaming laptops, but it'll easily outperform most work computers.
The 5470's blistering speed will more than justify its 3.3-pound price tag if, as is the case with me, your productivity job sometimes extends into the domain of content creation, or if you often transmit enormous data files.
Finally, I'll talk about the magnificent 14-inch anti-glare InfintyEdge touchscreen that has a 2560 x 1600 pixel resolution and a peak brightness of 499 nits, making it suitable for use in any situation.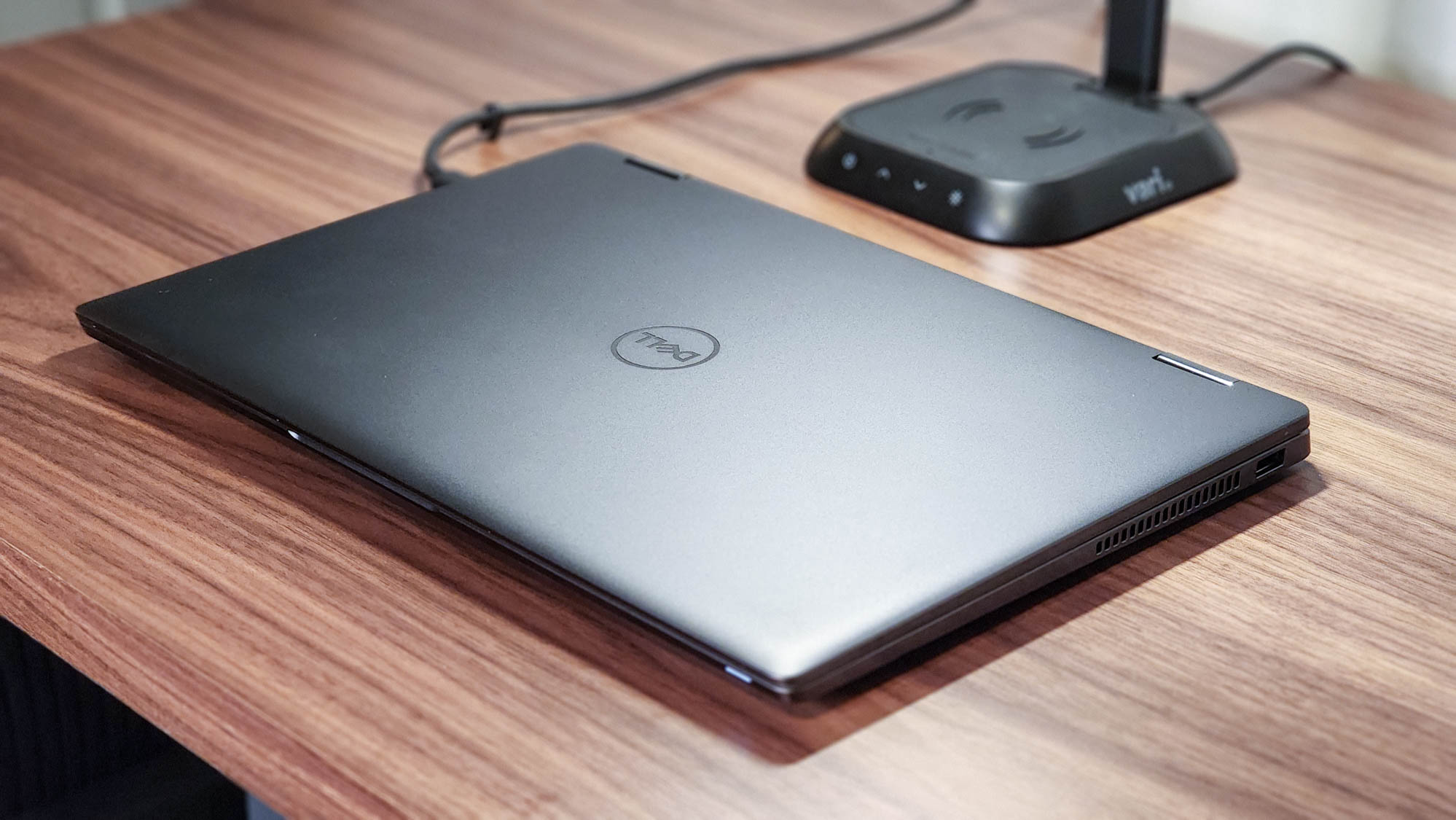 best business laptop detachable 2-in-1 laptop
Specifications
CPU: 12th-Gen Intel Core i7-1265U
GPU: Iris Xe
RAM: 16GB
Storage: 512GB M.2 PCIe NVMe SSD
Display: 14-inch, 2560 x 1600-pixel 16:10
Size: 12.2 x 8.5 x 0.5 inches
Weight: 3.2 pounds
Reasons to buy
Gorgeous InfinityEdge touchscreen with wide viewing angles
Comfy keyboard with good travel
A wide, responsive touchpad
Outstanding battery life
Includes HDMI port
Reasons to avoid
Limited port selection
Kind of clunky in tablet mode
If battery life is a priority, the Dell Latitude 9430 2-in-1 is going to be a serious contender for the best business laptop for you. The 2-in-1 laptop cruised to 12 hours and 39 minutes in our Laptop Mag Battery test. That's hardly the only reason to choose it though; the bright InfinityEdge display lets Dell squeeze a 14-inch display into a super slim 0.54-inch chassis.
Performance is more than enough to juggle all the browser tabs you forgot to close during the day along with every productivity app in your arsenal. The sleek, but durable build and the flexible 2-in-1 convertible form factor make all help to extend its utility.
Add in excellent enterprise-grade security from its vPro processor, and secure and convenient login via its FHD IR camera or fingerprint reader and you have a business laptop that justifies its admittedly high price.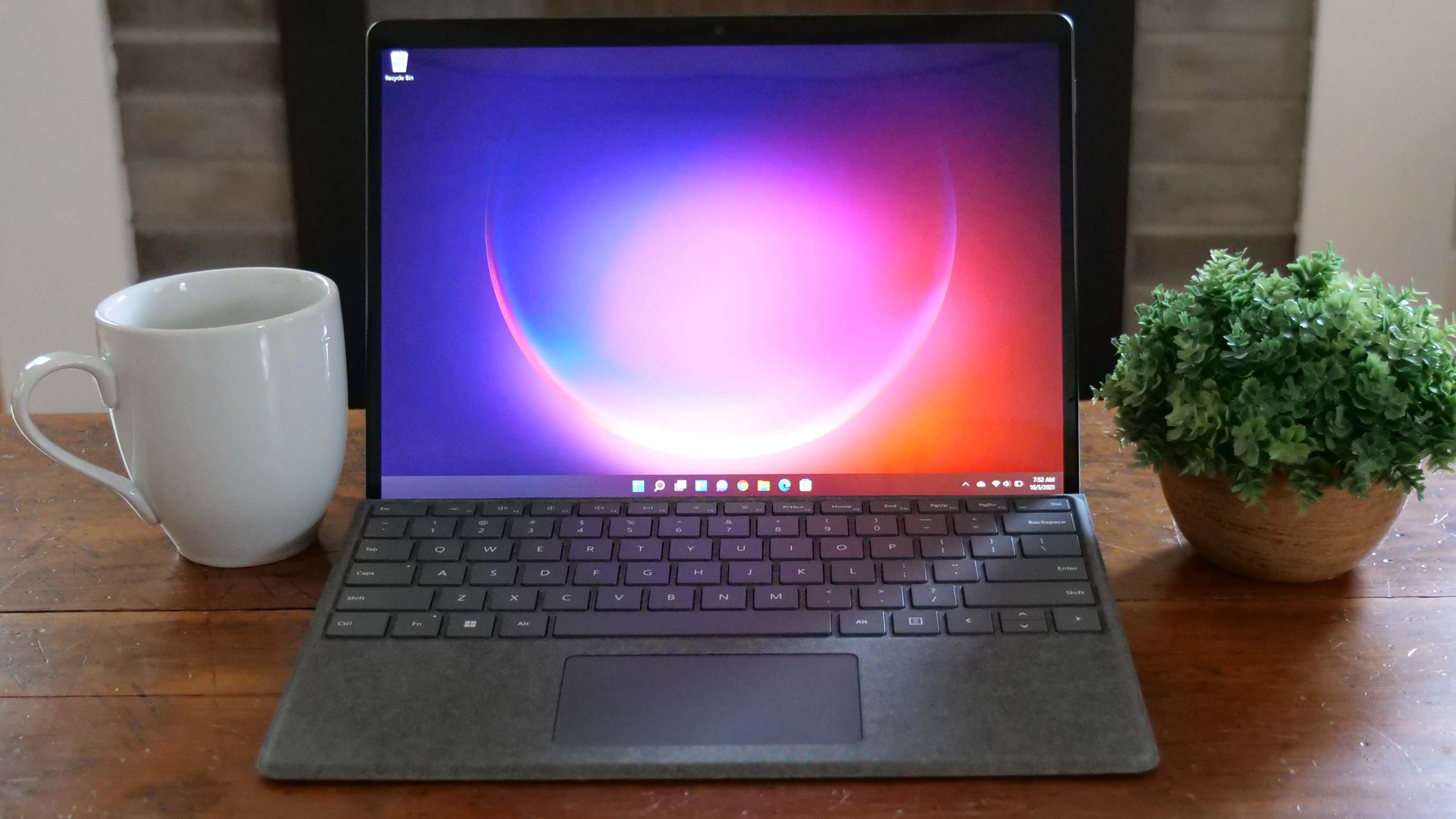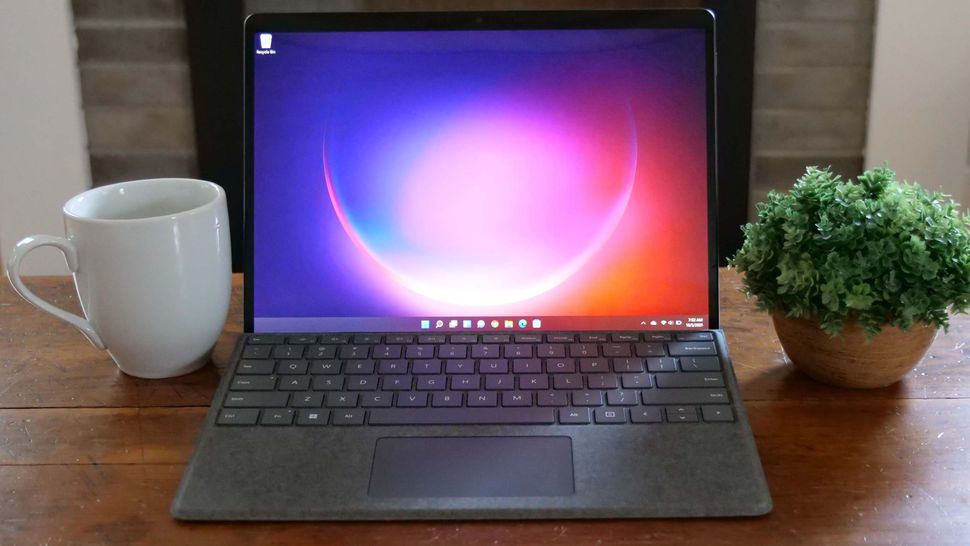 The best business laptops 2-in-1
Specifications
CPU: Intel Core i7-1185G7
GPU: Iris Xe
RAM: 8GB/16GB/32GB
Storage: 128GB/256GB/512GB/1TB
Display: 13-inch, 120Hz 2880×1920-pixels
Size: 11.3 x 8.2 x 0.37 inches
Weight: 1.96 pounds
Reasons to buy
Gorgeous display
Strong performance
Dual Thunderbolt 4 ports
Excellent webcam
Versatile 2-in-1 form factor
Reasons to avoid
Battery life could be better
Keyboard and pen sold separately
There isn't a huge improvement with the Microsoft Surface Pro 8. However, it improves upon a previously superb 2-in-1 tablet in sufficient ways to once again rank among the best 2-in-1 notebooks.
The larger display and narrower borders give it a more contemporary appearance, while the rounded corners and new features in Windows 11 give it the impression of a tablet. When the new Slim Pen 2 is used in conjunction with the Type Cover, the user has access to a built-in pen with a tactile feel, ideal for artists and those who take a lot of notes.
More battery life would have been fantastic, and the price increase could be off-putting to some. Overall, however, the Surface Pro 8 is a worthy addition to the Surface family and a tempting choice for those in the market for a new laptop in anticipation of Windows 11.
Not sold on the Surface Pro 8? See our review of the ThinkPad X12 Detachable. If you want more dedicated business features, the Surface Pro 7+ offers a more enterprise-focused take with the last-gen Surface Pro design.  We're in the process of reviewing the Surface Pro 9, but if you need something today check out our Surface Pro 9 vs. Surface Pro 8 overview and rest assured you aren't missing too much; you can also probably find a solid deal on the Surface Pro 8 right now.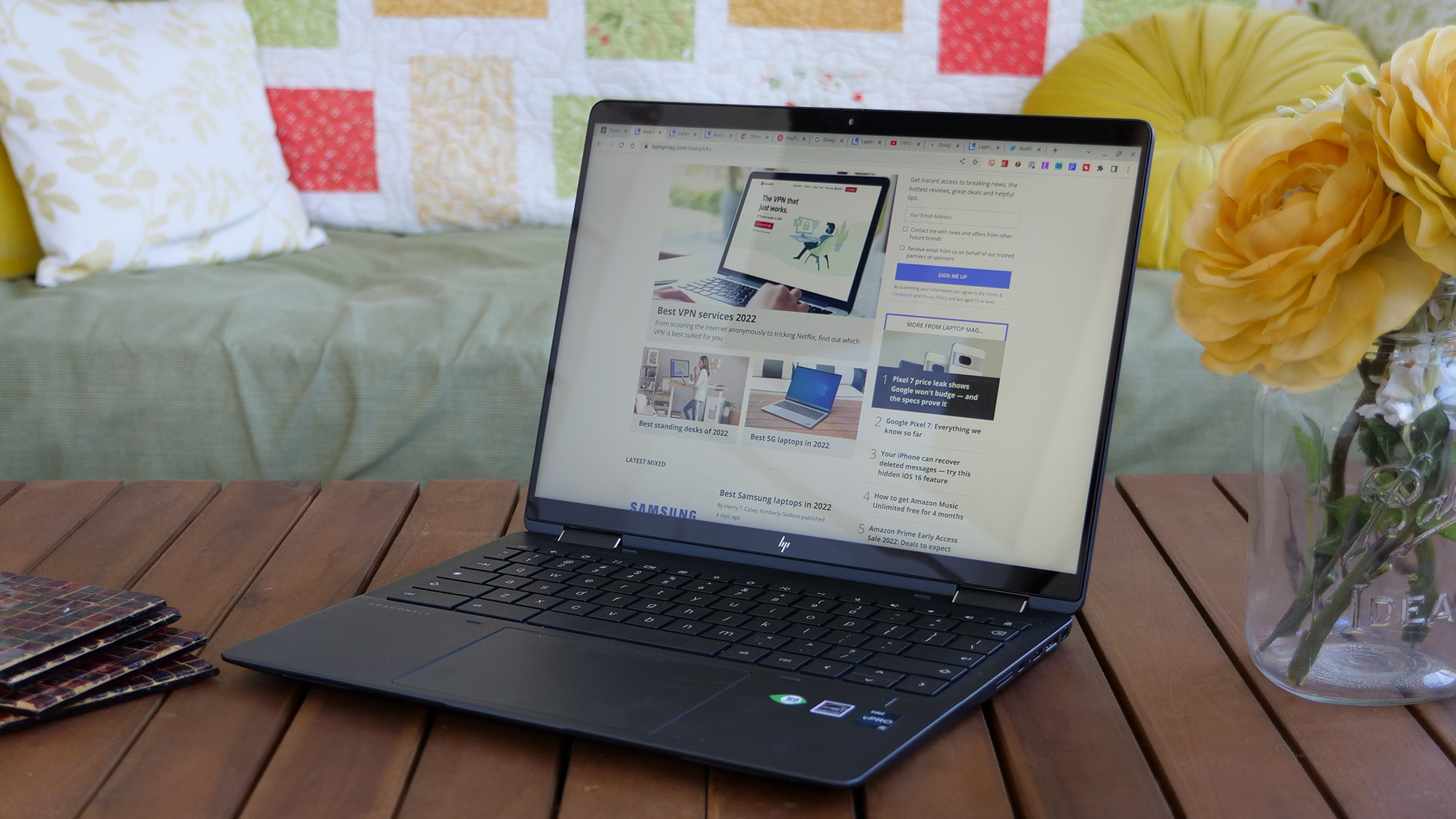 best business laptop Chromebook
Specifications
CPU: Qualcomm Snapdragon 8cx Gen 3
RAM: 8GB LPDDR4X
Storage: 256GB NVMe PCIe 3.0 SSD
Display: 13.5-inch, 2256 x 1504-pixel touchscreen
Size: 11.6 x 8.7 x 0.65 inches
Weight: 2.8 pounds
Reasons to buy
Bright, sharp 2K display
Versatile 360-hinge design
Outstanding performance
5G connectivity is available
Durable and attractive design
Reasons to avoid
Weak battery life
Starts at $1,149
What about Chromebooks for the workplace? In a word, yes. As of right now, your best bet is the HP Elite Dragonfly Chromebook Enterprise. The Dragonfly's security features, which include Intel vPro, a Titan C processor, and a fingerprint sensor, are superior to those of a standard Chromebook. Chromebooks come with a free year of Parallels so you can run all of your Windows programs.
The HP Elite Dragfonfly Chromebook's security features and administrative friendliness are two of its best-selling points, but the device's other features are just as impressive. With up to 400 nits of brightness, the 13.5K 2K display is really remarkable. It's a dream for frequent fliers because to its 2-in-1 design, lightweight 2.8-pound chassis, and optional 5G capability.
However, organizations who will save a lot of money on support may consider making the purchase because of the laptop's long battery life (just over 9 hours in our Laptop Mag battery test) and low price.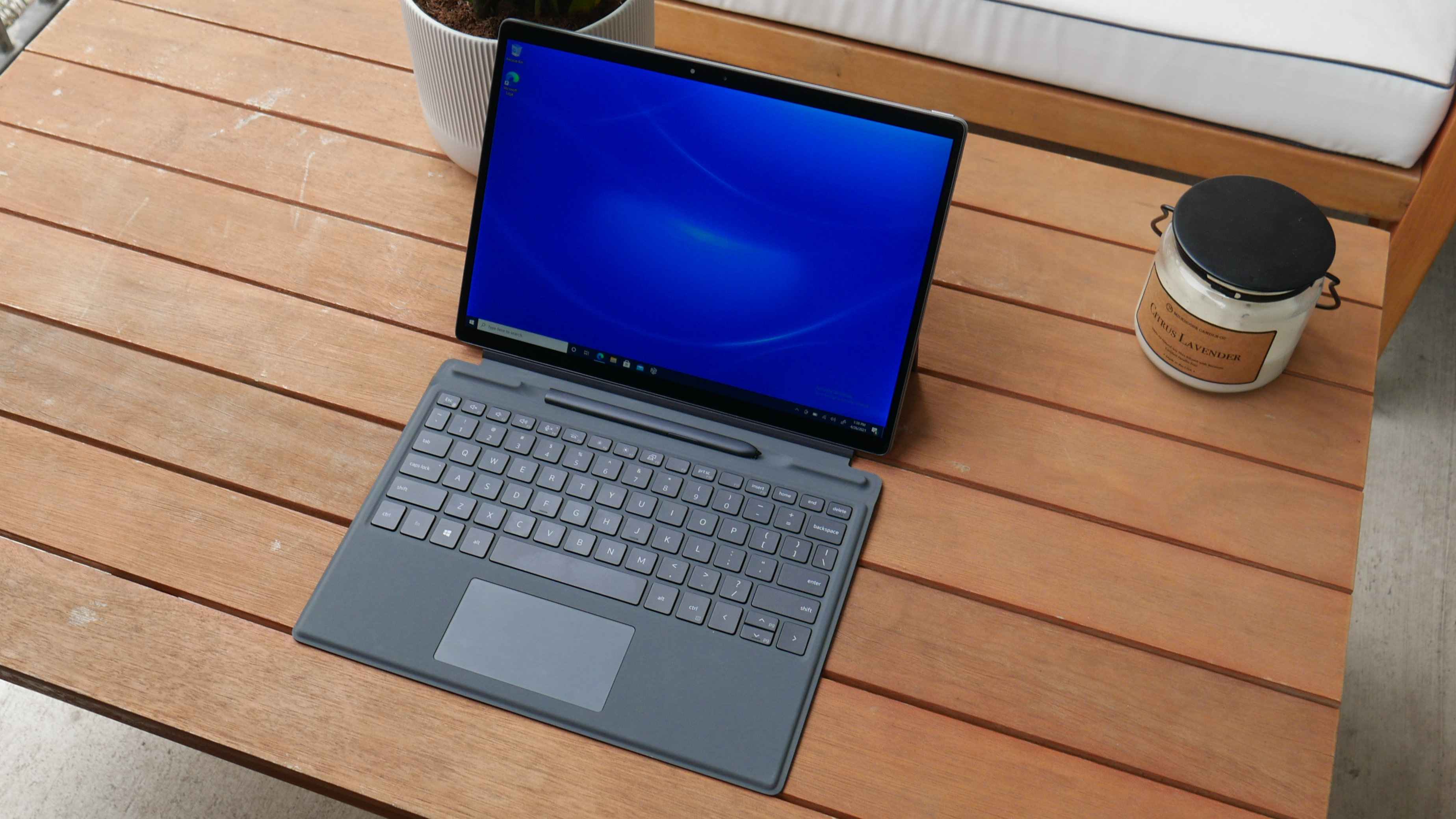 The best business 2-in-1 laptop
Specifications
CPU: Intel Core i7-1180G7 CPU
GPU: Iris Xe
RAM: 16GB
Storage: 1TB
Display: 13 inches, 1920 x 1280-pixel
Size: 11.4 x 8.2 x 0.3 inches
Weight: 1.8 pounds
Reasons to buy
Slim aluminum design
The bright, vivid 13-inch display
Good performance
Comfy keyboard with pen charging slot
Reasons to avoid
Kickstand is a bit flimsy
With the Latitude 7320 Detachable, Dell takes on the Surface Pro 7 and wins. Standout features include a gorgeous 13-inch display, fast performance, a comfortable detachable keyboard with a built-in stylus slot, useful security features, and a class-leading webcam (yes, you read that right). These are all packaged in a sleek metal chassis that can easily be slipped into a backpack or purse.
The Latitude does waver in a few areas. The kickstand feels somewhat flimsy and the sky-high price will detract all but the highest-ranking execs or the wealthiest corporations. Despite these faults, the Latitude 7320 gives Dell enterprise customers an excellent version of this ultra-mobile form factor so they can work or relax from anywhere.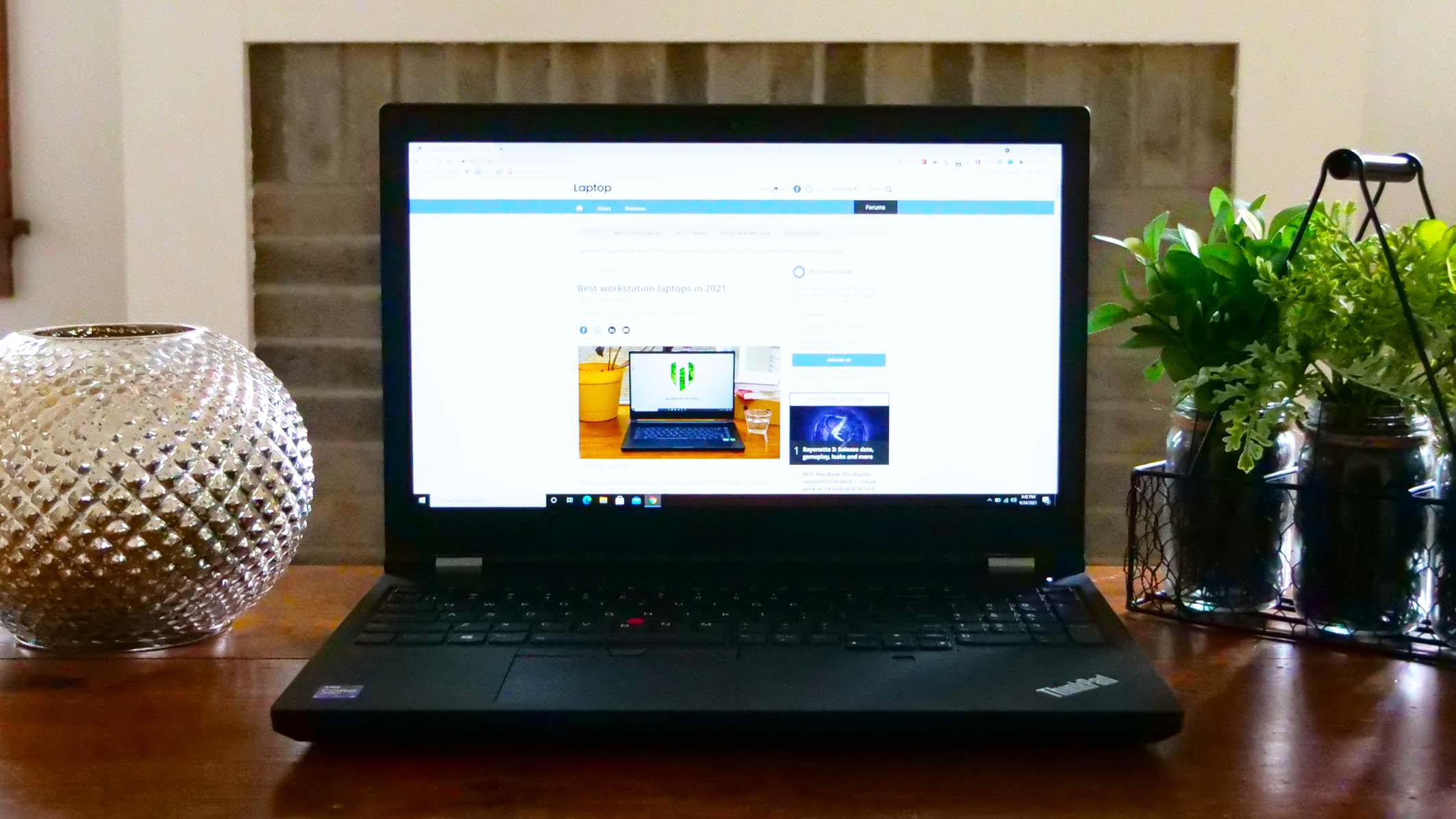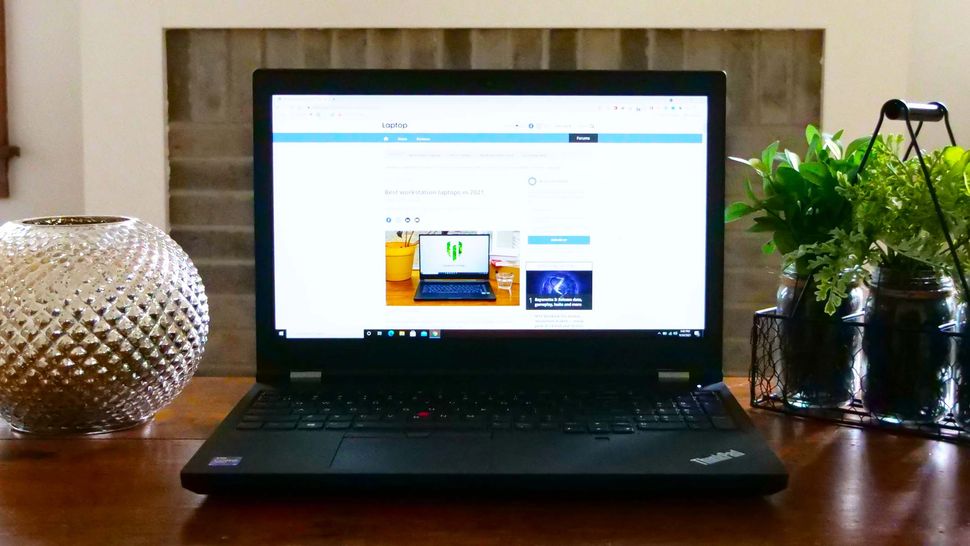 The most powerful business workstation
Specifications
CPU: Intel Core i7-11950H vPro
GPU: Nvidia RTX A5000
RAM: 32GB
Storage: 1TB SSD
Display: 15.6-inch, FHD (1920×1080)
Size: 14.7 x 9.9 x 1.2 inches
Weight: 6.2 pounds
Reasons to buy
Class-leading performance
Excellent array of ports
Bright display
Durable build
The Lenovo ThinkPad P15 Gen 2 improved on what was already a winning formula with the original ThinkPad P15 with upgraded performance and stellar battery life for the 1080p model.
The laptop's 11th Gen Intel Core i9-11950H CPU, Nvidia RTX A5000 GPU, and 32GB of RAM make it an absolute workhorse of a workstation. If raw performance is your goal, it will be hard to beat the ThinkPad P15 Gen 2. The one concern for creatives will be the display, but if that's crucial for you consider the OLED panel option or perhaps an external display.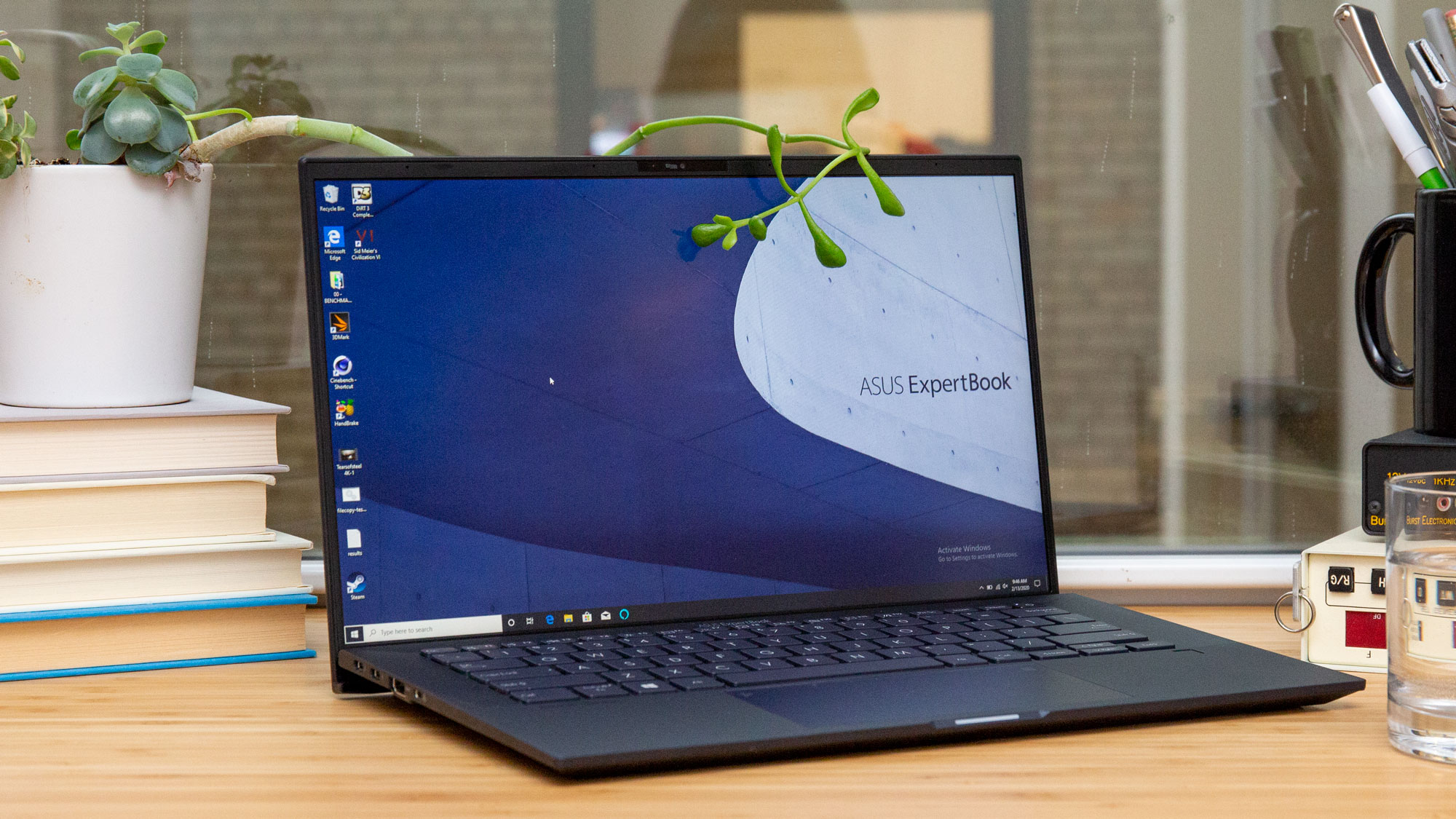 best business laptop with Outstanding battery life and an excellent webcam
Specifications
CPU: Intel Core i7-1265U vPRo
GPU: Intel Iris Xe graphics
RAM: 16GB
Storage: 512GB SSD
Display: 13.5-inch, 1920 x 1280-pixel display
Size: 11.7 x 8.6 x 0.64 inches
Weight: 2.2 pounds
Reasons to buy
Impressive battery life
Great webcam
Spacious touchpad
Lightweight and portable
Reasons to avoid
The HP Elite Dragonfly G3 is a powerhouse of a laptop with a compact design, a high-quality camera, and a battery life of more than 14 hours.
The Dragonfly G3's performance isn't good enough for it to double as a gaming laptop in your spare time, but it's more than enough for office work and casual web surfing, and the trade-off of efficiency for sheer power is well worth it for professionals.
Business customers who travel or who spend a lot of time moving about the office or working remotely will find this lightweight and compact laptop to be an excellent alternative due to its 3:2 aspect ratio, pleasant clicky keyboard, large touchpad, good camera, and 2.2-pound weight.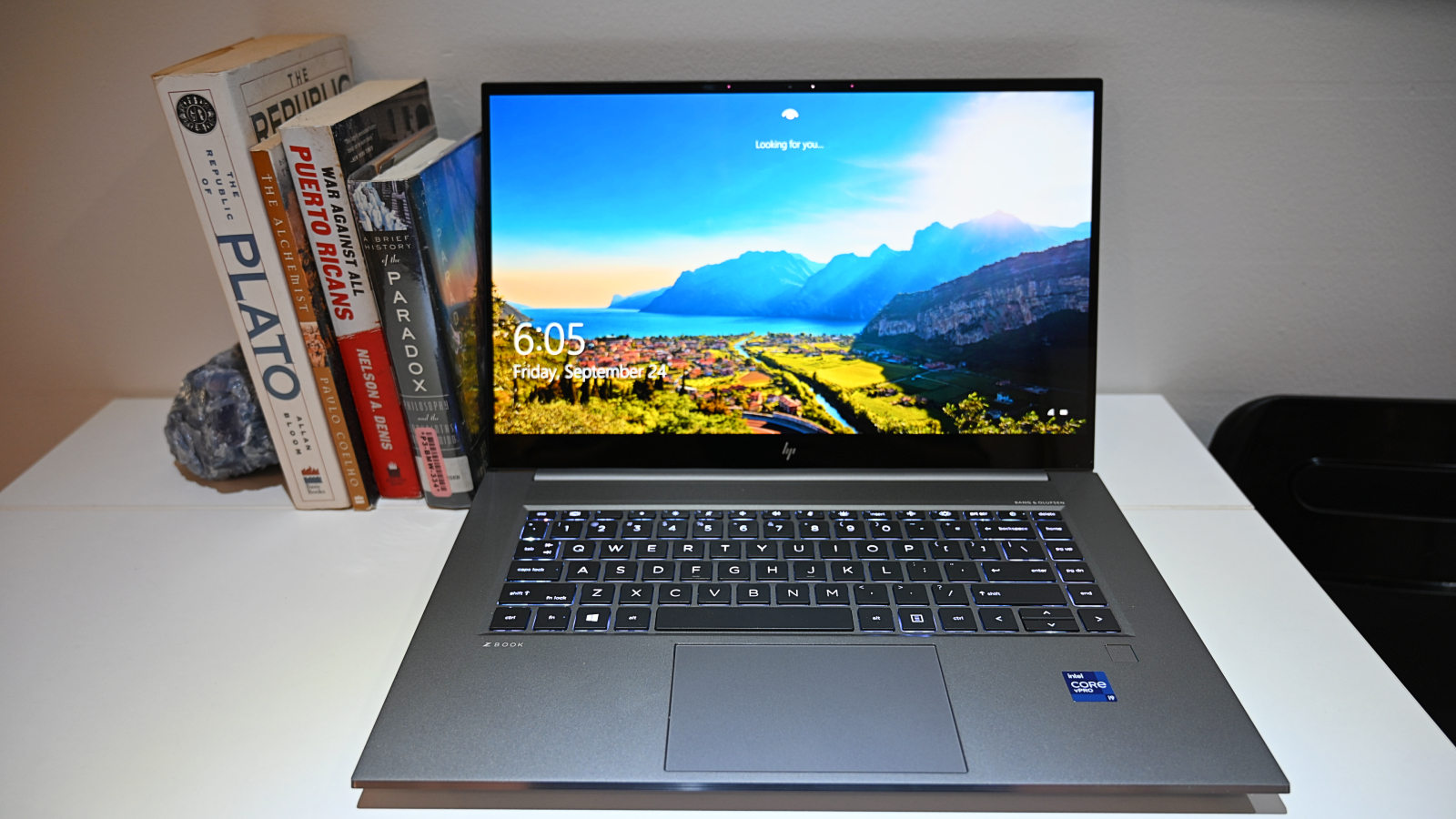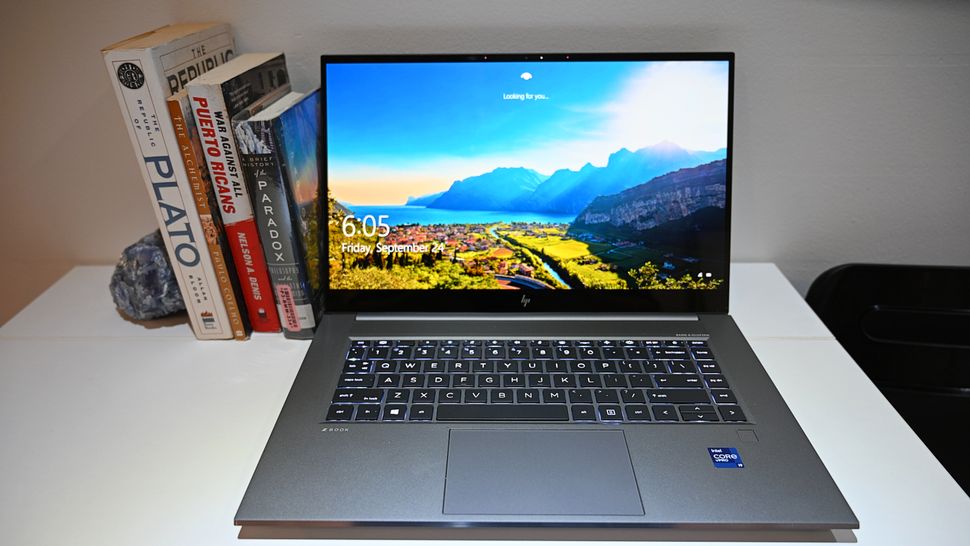 Powerful workstation with a stunning display
Specifications
CPU: Intel Core i9-11950H
GPU: Nvidia GeForce RTX 3070
RAM: 32GB
Storage: 2TB SSD
Display: 15.6-inch, OLED 4K (3840 x 2160)
Size: 14.1 x 10.1 x 0.6 inches
Weight: 3.3 pounds
Reasons to buy
Stunning 4K OLED display
Powerful overall and gaming performance
Comfortable keyboard
Reasons to avoid
This eye-catching device is equipped with an 11th-generation Intel Core i9 CPU, 32GB of RAM, 2TB of SSD storage, and an Nvidia GeForce RTX 3070 graphics processing unit, making light work of even the most resource-intensive tasks in Adobe Creative Suite.
In my perspective, the $4,727 machine is one of the greatest content-creator laptops on the market since it is beautiful, powerful, and MIL-SPEC durable. I almost forgot to say how gorgeous the OLED 4K touchscreen is.
But I was hoping the battery would last longer and it wouldn't become so hot, considering the cost. The MSI Creator Z16, available for at $2,999, is a far more affordable choice with longer battery life and a little more power.
How to choose a business laptop
Here are some things to keep in mind when choosing the right model of business laptop for you or your company.
Do you need Intel vPro or AMD Pro? Many business laptops are available with CPUs that have Intel vPro technology, which lets a support person log in remotely, even if the computer can't boot. However, unless you have a large IT department and a huge fleet of laptops that you need the ability to service remotely, you probably won't use this feature.
How fast do you need it to be? Most professionals can get by with a laptop equipped with a quad-core Core i5 processor with integrated Intel Iris Xe graphics, such as the Core i5-1135G7 or Core i5-1145G7 (vPro). Get a mobile workstation with a Core i7 or Core i9 H-Series CPU (model numbers end in HQ) and Nvidia Quadro graphics if you need top-tier performance for 3D modeling, professional video editing, or developing predictive models.

Long battery life: Nobody wants to run out of juice in the middle of a long workday or a cross-country flight. Unless you're getting a giant workstation, look for a laptop that gets more than 9 hours on a charge. Some business systems come with a choice of regular or extended batteries; always get the high-capacity unit.
SSDs for responsiveness: A solid-state drive, as opposed to a mechanical hard disk, is the key to a lightning-fast computer. When compared to traditional hard drives, SSDs are at least three times quicker in boot time, application launch, and multitasking.

The right ports: Having to lug around a bunch of dongles is a pain for everyone. Think of the sorts of connections that you and your staff will use most often. Make sure the notebook includes an Ethernet connector if you often connect to a wired network. Having a laptop with a memory card reader is a must if photography plays a significant role in the position. With the latest generation of high-speed peripherals, universal chargers, and powerful docks, having a Thunderbolt 4 connector is a major benefit.

A great keyboard: It almost goes without saying that every laptop should have a good keyboard. But with business systems, a comfortable typing experience is even more important. Look for snappy feedback, deep travel and absolutely no flex.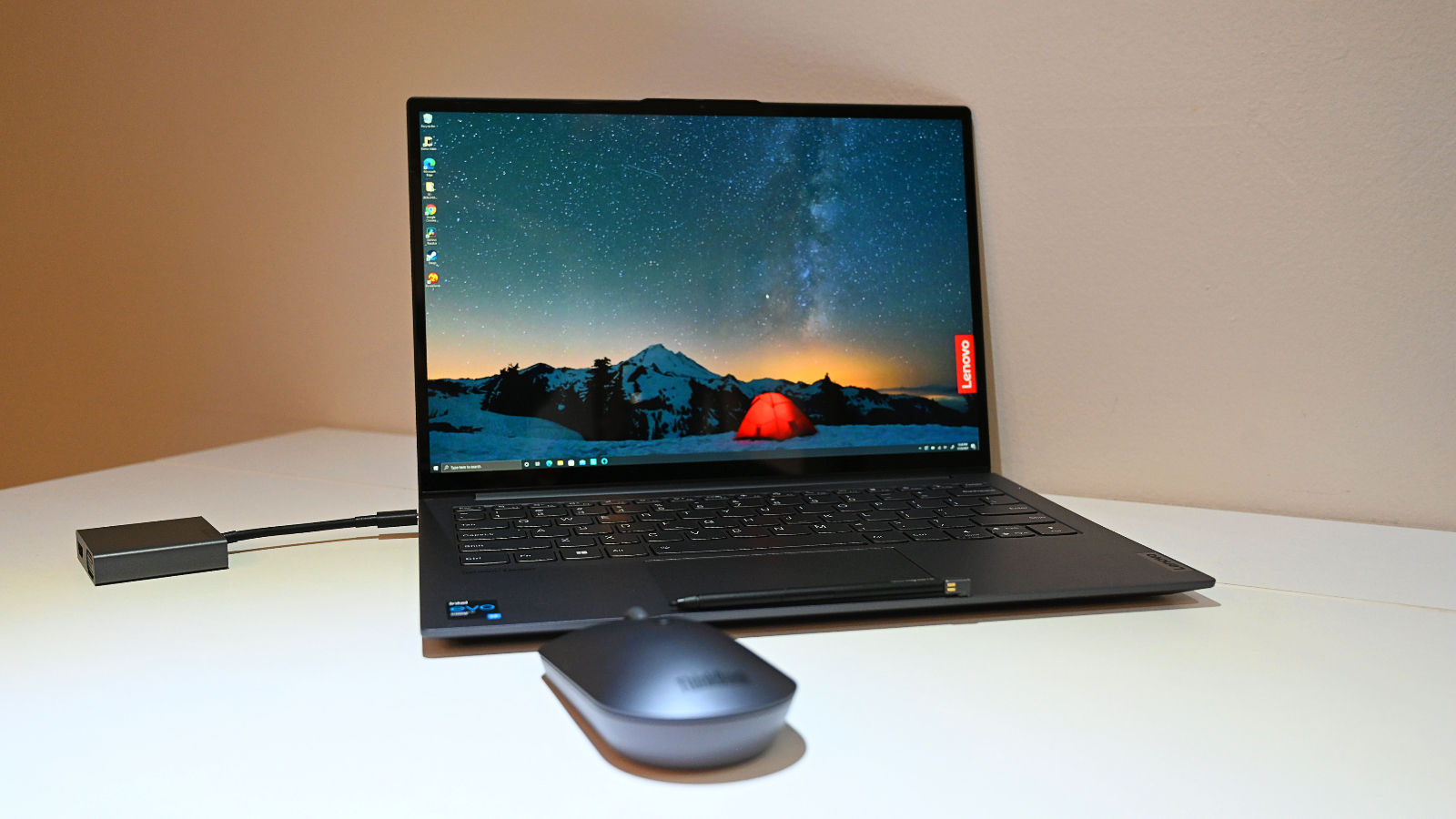 How do we test business laptops?
Before sending a laptop to a reviewer, we subject it to a battery of tests that include both simulated and real-world benchmarks. We test everything from the laptop's processing speed and battery life to its screen quality, audio output, and temperature control.
We measure the brightness and DCI-P3 color gamut of the laptop screen using a Klein K10 colorimeter for our benchmark tests. We put the laptop through its paces in a battery of benchmarks to gauge its performance, including the GeekBench 5 and 3DMark professional graphics tests.
We test the laptop's performance in the real world by having it downscale a 4K movie to 1080p and by having it copy a 25GB multimedia file. Assasin's Creed Valhalla was used as a real-world graphics benchmark, using medium settings and 1080p resolution.
We also do heat tests, which include playing a full-screen movie for 15 minutes while taking readings from various points on the laptop. Finally, we put the battery through its paces by having it continuously browse the web through Wi-Fi at a brightness level of 150 nits. Acceptable battery life is 9 hours or more for high-end laptops like MacBooks and Windows 11, and 5 hours or more for gaming laptops and workstations.
Our testers also do comprehensive hands-on testing, critiquing everything from the laptop's materials to the responsiveness of its touchpad in addition to the aforementioned tests.