The titanium frame makes iPhone 15 Pro the lightest iPhone models ever — without comprising strength and durability
The iPhone 15 Pro's 6.1-inch display has the thinnest borders on the iPhone, and uses super-strong ceramic glass
The action button replaces the mute switch, with user-set features ranging from activating silent mode, opening your camera, and more — all with haptic feedback
The A17 Pro chipset promises faster and more efficienct performance than ever before, and significantly faster machine learning
The new USB-C port offers USB 3.0 with up to 10Gbps data transfer speeds
This is the "best iPhone camera yet" with the equivalent of 7 lenses in a single device, but the new tetra-prism telephoto lens will be exclusive to the Pro Max
iPhone 15 Pro will be available in four colors: Black titanium,, white titanium, blue titanium and raw titanium
iPhone 15 Pro starts at $999 for 128GB, while iPhone 15 Pro Max starts at $1,199 for 256GB
All iPhone 15 pre-orders open September 15, with a release date set for September 22
The iPhone 15 Pro is real, and it's going to be in your hands very soon. Apple has announced the new phone alongside the rest of the iPhone 15 family at its "Wonderlust" event in Cupertino — ushering in a brand new era of iPhone in the process.
So what can you expect to see from the iPhone 15 Pro? It was speculated that this year could be the biggest leap in iPhone tech since the release of iPhone X in 2017. Whether that's true or not is up for you to decide, but needless to say there's a lot of great things packed into the iPhone 15 Pro such as USB-C charging and connectivity, a titanium frame, the solid-state action button, a super-powerful A17 Pro chipset, and a 2nd generation UltraWideband chip with better range.
Here's everything you need to know about iPhone 15 Pro.
iPhone 15 Pro price and availability
The iPhone 15 Pro will cost you at least $999 / £999 / AU$1,849, the same as the iPhone 14 Pro, which gets you a model with 128GB of storage. iPhone 15 Pro Max starts at $1,199 /£1,199 / AU$2,199, which comes with 256GB of storage.
All iPhone 15 models will be available for pre-order from September 15, with the official release date set for September 22. That includes the Pro and Pro Max, which means rumors of delays were unfounded.
iPhone 15 Pro design and display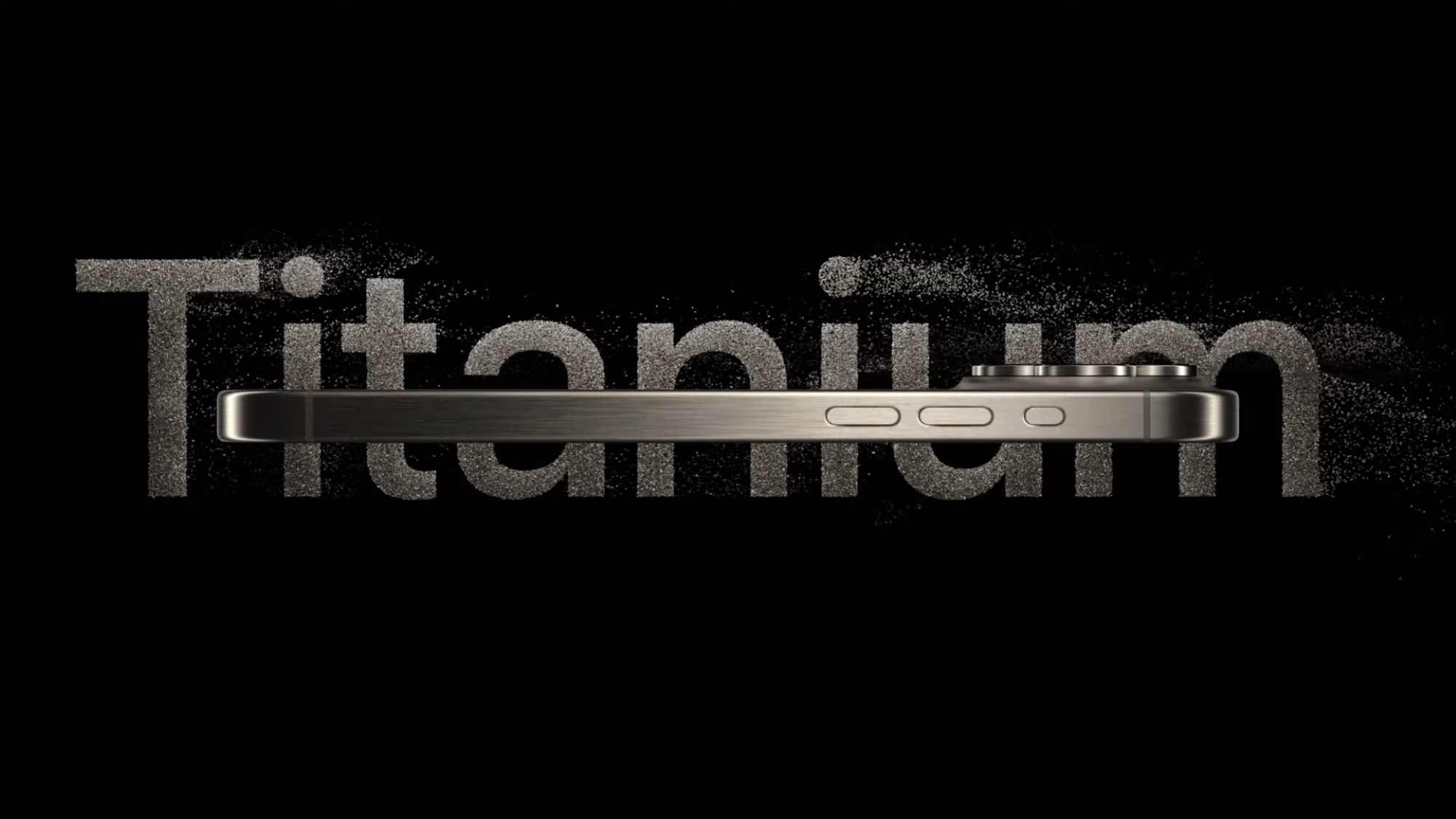 The iPhone 15 Pro is set to offer a 6.1-inch display, while the iPhone 15 Pro Max will offer a 6.7-inch display — which are the same screen sizes as last year. The different here is that Apple has slimmed down the borders on the phones, to what it claims are the thinnest borders on an iPhone. That means the screen sizes remain the same, while the phones themselves are slightly smaller than their iPhone 14 counterparts.
The biggest change is the fact that Apple has swapped out stainless steel for Grade 5 titanium. The benefit to titanium is that it offers greater strength and durability while also weighing considerably less in the process. Titanium is also notable for better resistance to corrosion, while grade 5 titanium offers better tensile strength than the pure metal.
Inside Apple has used an aluminum substructure that's bonded to the titanium frame using what it calls "solid state diffusion". It's not entirely clear what that means beyond the fact that the bonds between the two metals are stronger as a result.
The Pro models are also set to get the same dual-sided interior that debuted on the iPhone 14. This allows repair technicians to open the phone from the front and back, while simultaneously making it a lot easier to replace the back glass.
Other changes include the introduction of USB-C, and swapping the mute switch out for a solid-state action button.
The rest of the iPhone 15 Pro is rather familiar for anyone that has experience with the iPhone 14. That means you have the same Ceramic Shield display, which Apple says is the strongest display glass on the market, and a Dynamic Island cutout.
Plus, despite rumors to the contrary, it appears as though the iPhone 15 Pro retains a similar flat-edged design seen on all flagship iPhones since the release of the iPhone 12. Apple said that the phone has "contoured edges" but at this early stage the visual differences are minimal, to say the least,
iPhone 15 Pro Action button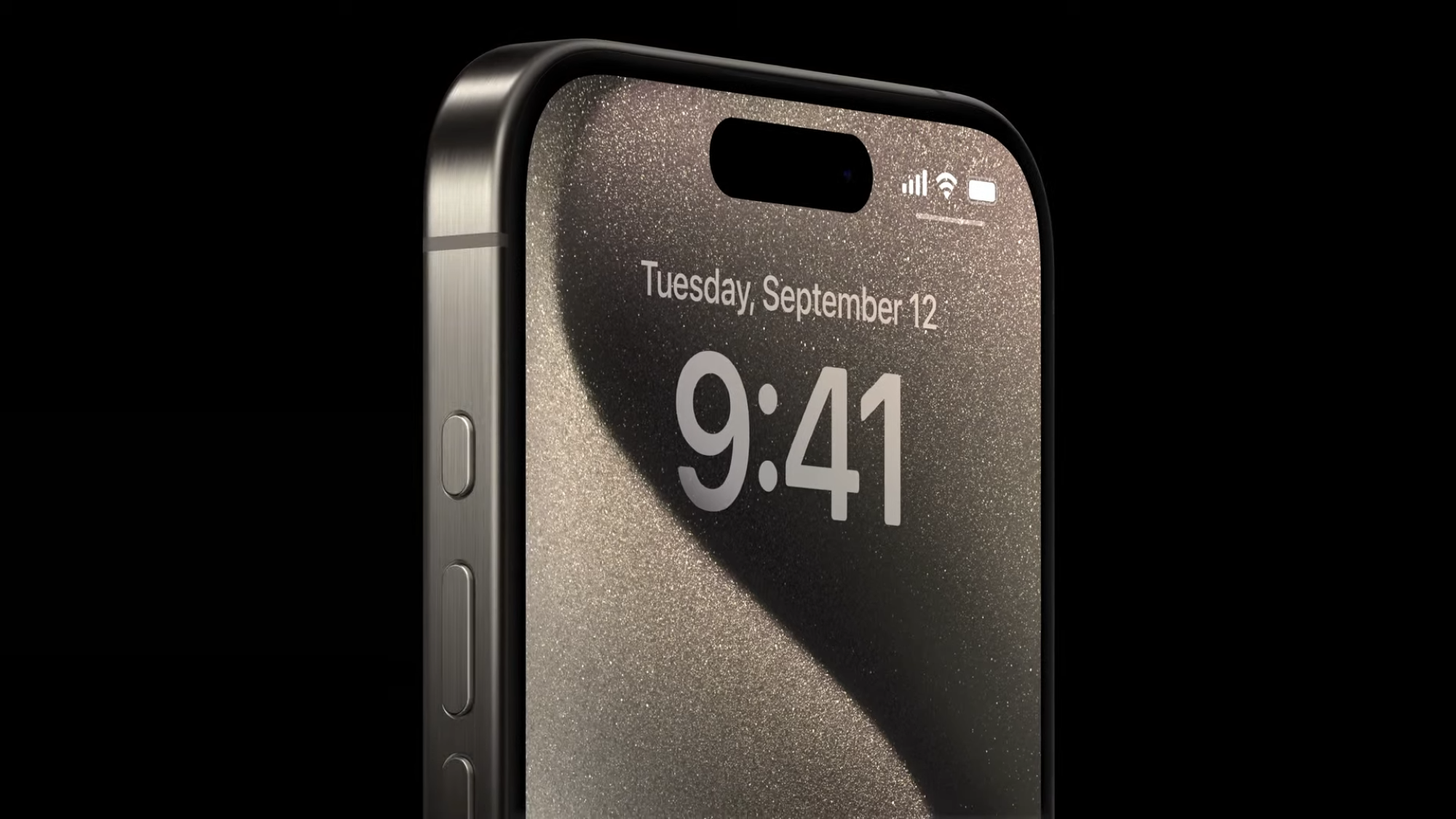 One of the boldest changes that have come to the iPhone 15 Pro is the loss of the mute switch, replaced by a new solid-state "action button". Rather than a physical toggle that moves from one position to another, this is a button paired with haptic feedback, capable of toggling a number of different features on the device.
By default, the action button will switch between ring and silent mode, much like the mute switch did. But in the absence of a physical toggle, you can feel, that Apple has added distinct haptic feedback so you know exactly which setting is being activated when you press the button.
The idea here is that users can customize the action button to do something they want quick access to. That may be toggling silent mode on or off, but the new switch can also be used to toggle features like iOS 17 shortcuts, turn on the flashlight, open the camera, record voice memos, translate, and switch on accessibility features like Magnifier.
Apple also revealed that the Dynamic Island will offer visual clues, and combined with the haptic feedback you'll be able to quickly deduce whether the button is doing the right thing or not.
The only question we have right now is whether the action button can be set to do multiple actions with different combinations of taps — such as single tap to turn on the flashlight or double tap to open the camera.
iPhone 15 Pro USB-C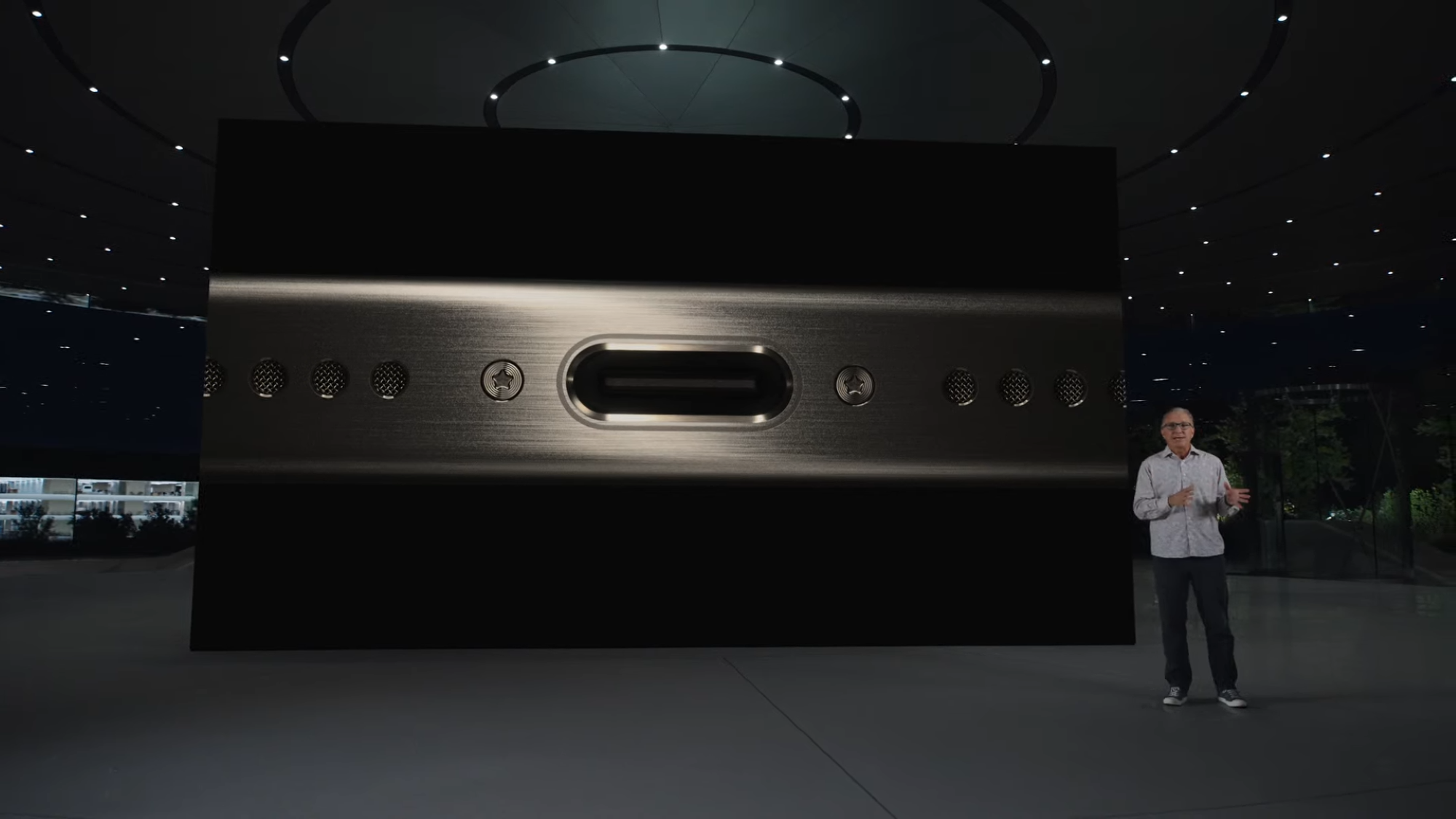 The iPhone 15 Pro introduces a new era of connectivity with its USB-C port. This feature not only enhances the user experience of the iPhone, including the Pro Max and Pro models, but also offers a plethora of benefits that make it stand out from its predecessors.
iPhone 15 Pro cameras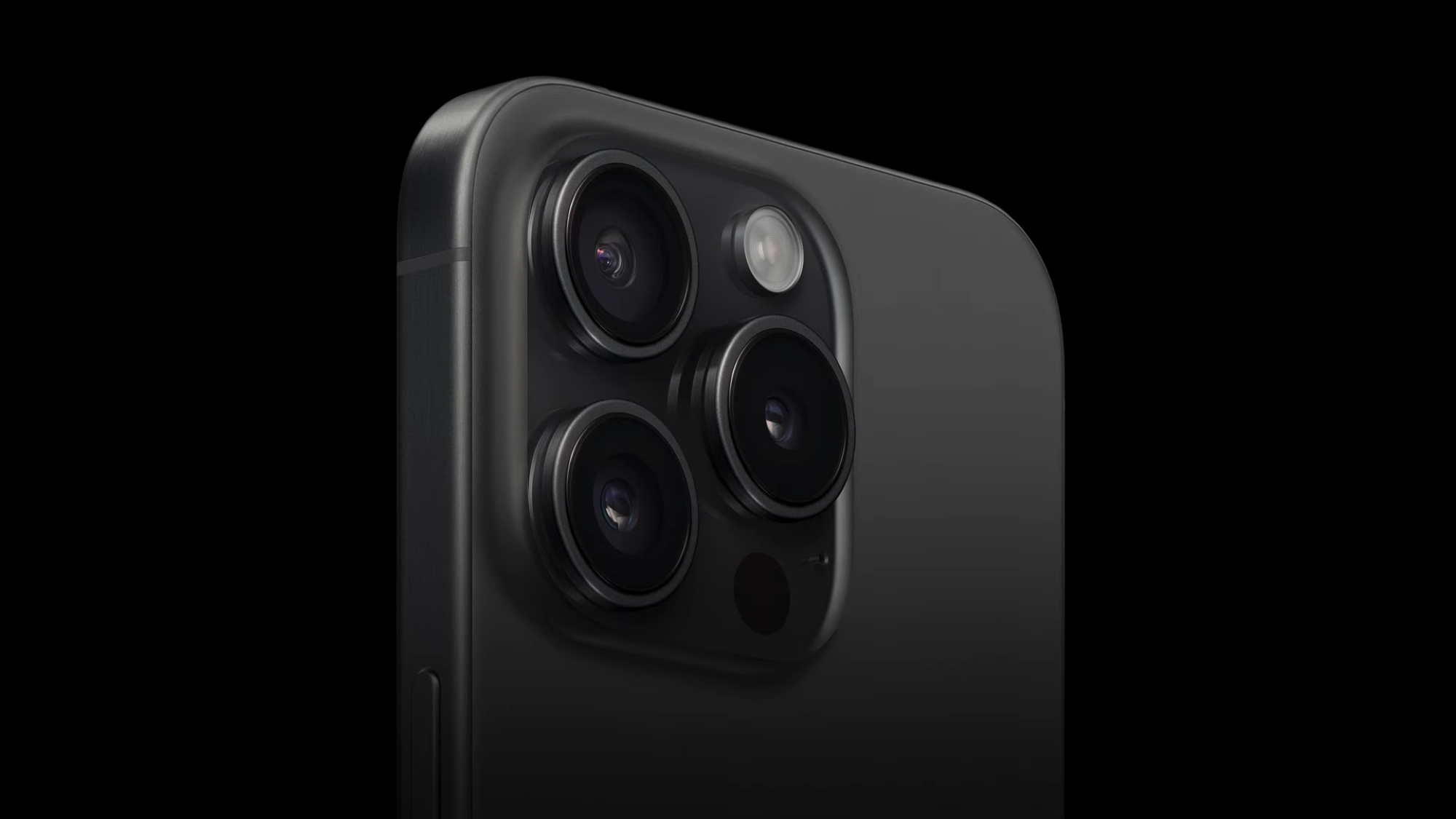 The camera system on the iPhone 15 Pro, one of the top smartphone photography models, has received powerful upgrades, making it a top contender in the trade. With its dual-lens camera system, the iPhone models are designed to deliver stunning photography that will impress even professional photographers. Trade in your old device and upgrade to the latest iPhone models for an enhanced photography experience.
One of the standout features of the iPhone 15 Pro's camera is its advanced image stabilization technology, making it one of the top models in the trade. This ensures that your videos come out steady and smooth, even when you're on the move with your iPhone. Trade in your old phone for the latest models like the A17 Pro or Pro Max to experience enhanced video stability. Whether you're capturing a breathtaking landscape with the iPhone or recording a memorable moment with friends using the A17 Pro or Pro Max, the optical image stabilization feature keeps everything in focus and eliminates any unwanted blurriness. Trade in your old phone for the latest iPhone models.
Low light conditions can often be challenging for smartphone cameras, but not for the iPhone 15 Pro models. Thanks to its night mode feature, the iPhone Pro Max and iPhone Pro models allow you to capture clear and detailed images even in dimly lit environments. This is particularly useful for nighttime cityscape shots or capturing beautiful starry skies with the iPhone 12 Pro Max and iPhone 12 Pro models, without losing any details.
Portrait mode with depth control is another highlight of the iPhone 15 Pro's camera capabilities, making it perfect for capturing stunning photos of models. This pro-level feature allows you to take stunning portraits with a blurred background effect known as bokeh on your iPhone. With various models available, you can capture professional-quality photos with the desired bokeh effect. With depth control on iPhone models, you have full control over how much background blur you want in your photos, giving them a professional touch that makes them stand out.
The main camera on the iPhone 15 Pro, one of the latest models, boasts an impressive 48MP resolution, ensuring incredibly sharp and detailed photos. Whether you're zooming in on distant subjects or capturing intricate details up close with the iPhone 13 Pro Max and iPhone 13 Pro models, this high-resolution sensor delivers exceptional results. The iPhone telephoto camera provides optical zoom capabilities for all iPhone models, allowing you to get closer to your subject without compromising image quality.
The inclusion of pro lenses further enhances your photography experience with the iPhone 15 Pro models. From wide-angle shots to telephoto perspectives, these lenses offer versatility and flexibility for iPhone Pro Max and iPhone Pro models. The addition of a periscope lens in the iPhone Pro Max and Pro models takes things even further, enabling you to achieve greater zoom capabilities and capture distant subjects with exceptional clarity.
Video capture on the iPhone 15 Pro is equally impressive. With the spatial video technology on the iPhone, you can record videos that make viewers feel like they're right there with you. This feature is available on both the iPhone Pro Max and the iPhone Pro models. This immersive experience adds a new dimension to your videos, making them more engaging and captivating on your iPhone. Whether you have the latest Pro Max or any of the other Pro models, you'll enjoy an enhanced viewing experience.
iPhone 15 Pro specs and performance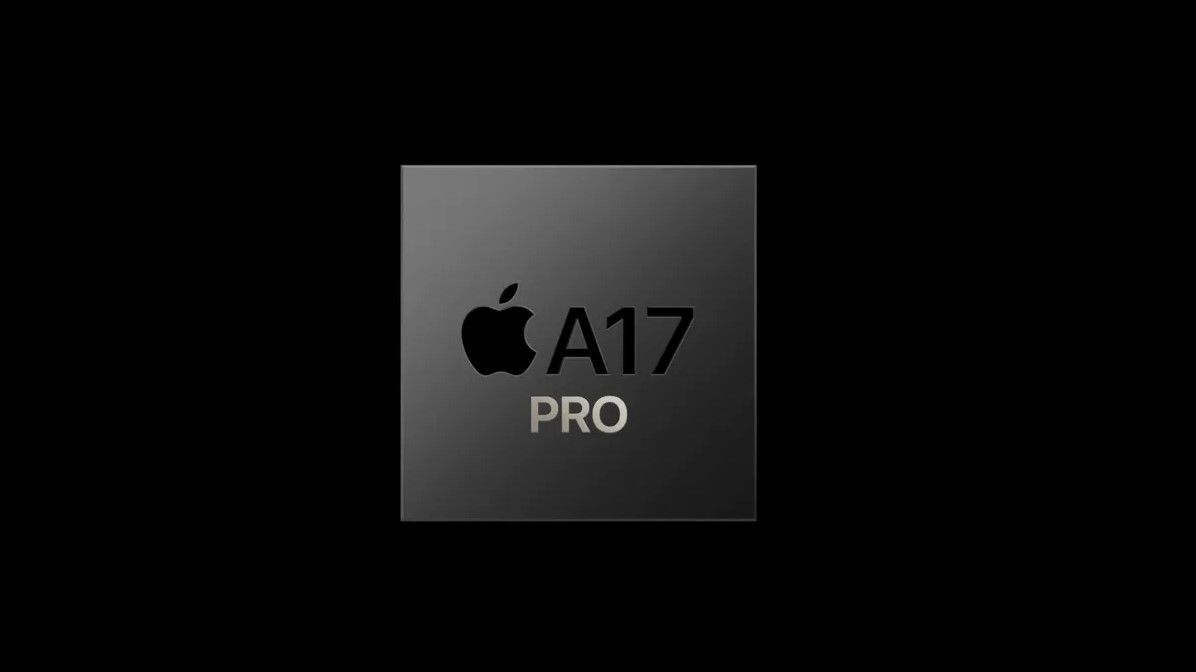 The iPhone 15 Pro is a powerhouse. Packed with cutting-edge technology, the iPhone Pro Max and Pro models ensure a smooth and efficient user experience. Let's take a closer look at the key features that make the iPhone 15 Pro stand out in terms of its specs and performance.
Powerful A-series chip ensures smooth performance
At the heart of the iPhone 15 Pro lies Apple's latest A-series chip, which delivers unparalleled processing power. This advanced chipset combines high-performance cores with energy-efficient ones, striking an ideal balance between speed and battery life for the iPhone Pro models, including the iPhone 12 Pro Max. Whether you're browsing the web, streaming videos, or running multiple apps simultaneously on your iPhone Pro Max or any of the other pro models, this powerful chip ensures seamless performance without any lag or slowdowns.
Ample RAM capacity allows for efficient multitasking
To complement its robust processor, the iPhone 15 Pro boasts ample RAM capacity. With up to 8GB of RAM, this iPhone can handle resource-intensive tasks with ease. The iPhone Pro Max and iPhone Pro models are especially adept at handling these tasks. Switching between iPhone apps becomes effortless on the new iPhone Pro models and iPhone Pro Max as the generous memory allocation enables swift app launches and smooth transitions. Whether you're editing photos while listening to music or working on multiple documents simultaneously, the iPhone 15 Pro's impressive multitasking capabilities won't disappoint.
High-quality graphics rendering enhances the gaming experience
For avid mobile gamers, the iPhone 15 Pro offers an exceptional gaming experience. Thanks to its powerful GPU, the iPhone Pro Max and Pro models bring games to life with stunning visuals and fluid animations. The iPhone Pro Max's high refresh rate display ensures ultra-smooth gameplay, eliminating motion blur for a more immersive gaming session. From graphically demanding titles to augmented reality experiences, the iPhone 15 Pro handles it all effortlessly.
Impressive benchmark scores showcase top-notch performance
Benchmark scores provide valuable insights. The iPhone 15 Pro consistently achieves outstanding results across various benchmark tests thanks to its powerful hardware components and optimized software integration. Whether it's CPU performance, graphics rendering, or wireless speeds, the iPhone Pro Max excels in every aspect. The iPhone Pro Max's photonic engine further enhances computational photography capabilities, delivering stunning photos and videos even in challenging lighting conditions.
iPhone 15 Pro benchmarking scores (rumored)

| | | |
| --- | --- | --- |
| Row 0 – Cell 0 | Geekbench 6 (single-core) | Geekbench 6 (multi-core) |
| Apple A17 Bionic (alleged) | 3,269 | 7,666 |
| Snapdragon 8 Gen 3 for Galaxy (alleged) | 2,233 | 6,661 |
| Apple A16 Bionic | 2,514 | 6,361 |
| Snapdragon 8 Gen 2 for Galaxy | 1,867 | 4,949 |
iPhone 15 Pro battery life and charging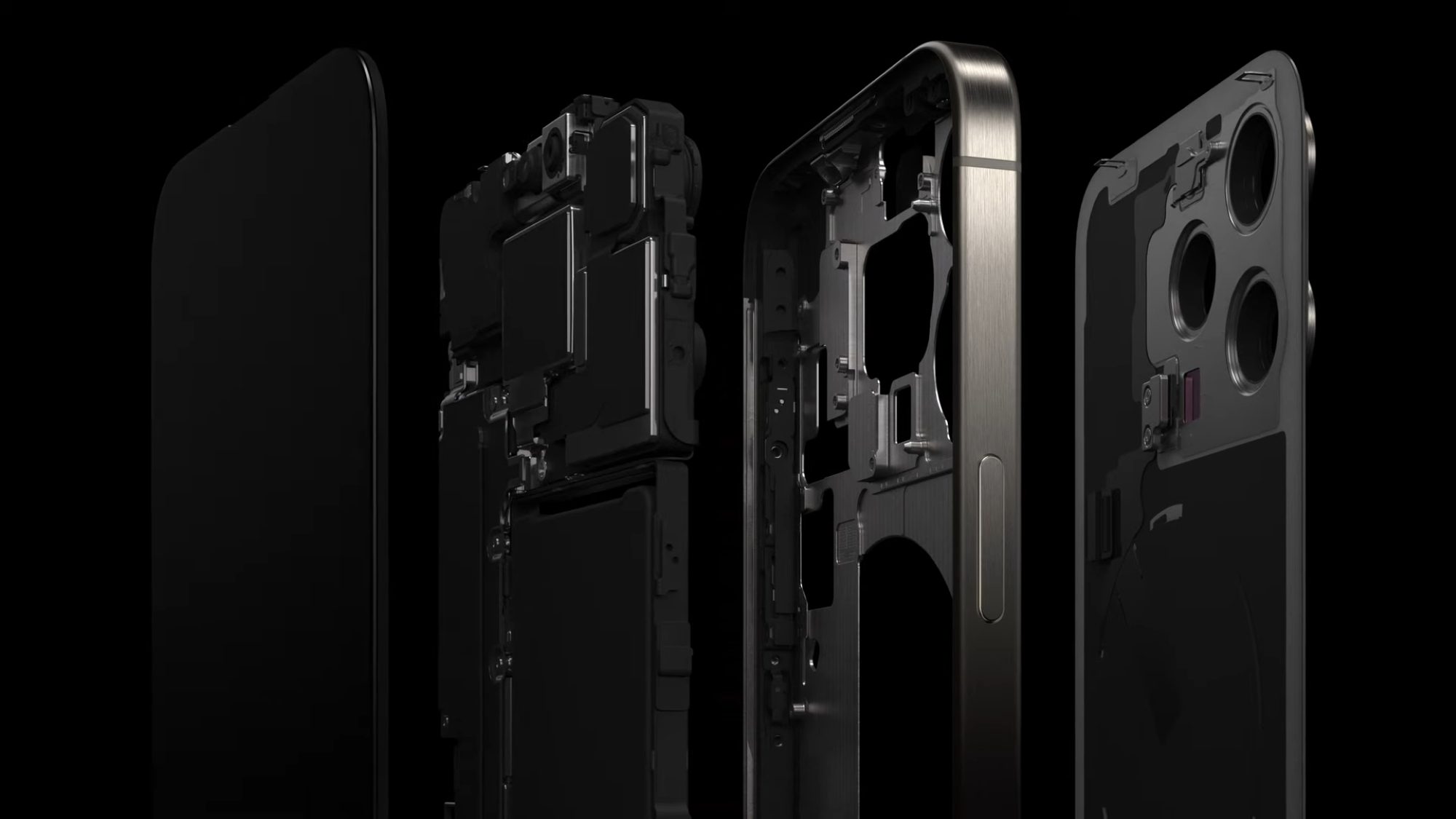 The iPhone 15 Pro is equipped with a long-lasting battery that keeps up with your day. Whether you're constantly on the go or using your phone for hours on end, you can rely on the impressive battery life of the iPhone 15 Pro to keep you connected without interruption.
One of the standout features of the iPhone 15 Pro is its fast charging capability. When your iPhone Pro Max is running low on battery, simply plug in your device and experience lightning-fast charging speeds. This means that even a short charging session with your iPhone can provide a significant boost to your iPhone battery life, allowing you to get back up and running quickly with your iPhone.
In addition to traditional wired charging, the iPhone 15 Pro also supports wireless charging. This adds an extra layer of convenience for iPhone Pro Max users, as you can simply place your phone on a compatible wireless charger and let it power up without any cables. Whether you're at home, in the office, or out and about, wireless charging offers a hassle-free way to keep your iPhone Pro Max juiced up.
To further enhance battery performance, Apple has optimized power management on the iPhone 15 Pro. This ensures that iPhone energy efficiency is maximized and unnecessary iPhone drain is minimized. By intelligently managing power consumption based on usage patterns and app activity, the iPhone Pro Max strikes an ideal balance between performance and longevity.
Apple has implemented advanced technologies into the iPhone 15 Pro. The iPhone Pro Max device utilizes intelligent charge cycles that help preserve overall battery capacity by minimizing wear caused by repetitive charging. This means that even after prolonged use, your iPhone's battery will continue to deliver reliable performance.
Moreover, if you're concerned about costs associated with frequent iPhone upgrades or repairs due to poor battery life, worry not! Many carriers offer bill credits for trading in older devices towards new purchases like the iPhone 15 Pro. Take advantage of these programs to not only enjoy enhanced battery life on your iPhone but also save on your monthly bill.
iPhone 15 Pro software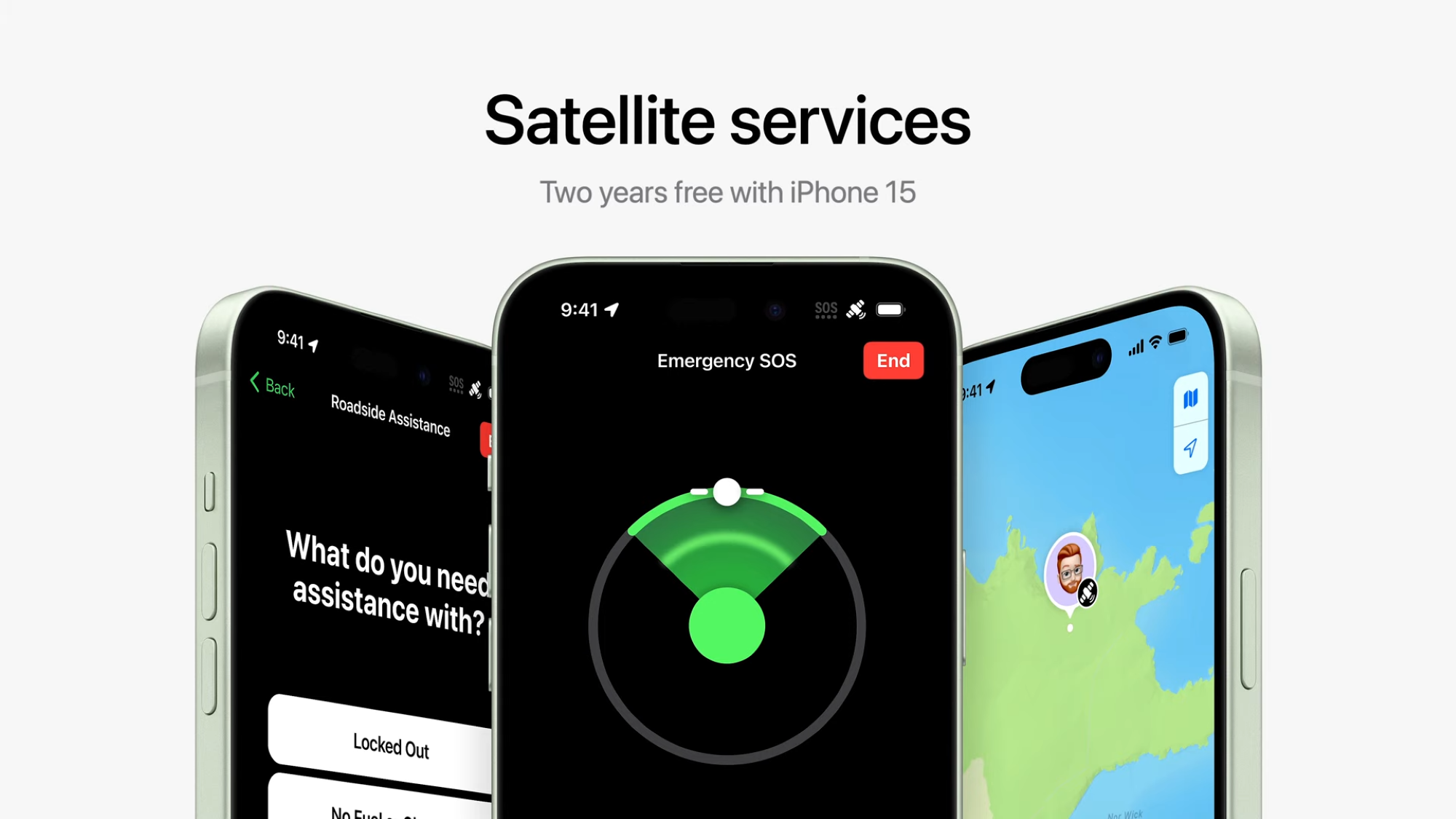 The iPhone 15 Pro will arrive running iOS 17, which is now confirmed to be arriving on September 18 — four days before the phone's official release date. That means the phone will be coming with all the best iOS 17 features we've been able to try in the public beta, including StandBy mode, Live Voicemail, Check In and NameDrop.
The only iPhone 15-specific software upgrades we've been told about so far is an upgrade to Emergency SOS with satellite and improvements to UltraWideband tracking in the Find My apps.
iPhone 15 users will be able to use the satellite connectivity to summon roadside assistance in the United States, should they ever need it, in the same way they can call for help with Emergency SOS. Simply tell your phone you need roadside assistance, and it'll put you through to AAA who will be able to come out and help you.
AAA is the only service partnered with Apple for now, and existing AAA subscribers will be able to get picked up without paying extra. Non-members won't be left out, though you may need to pay for the services.
Like Emergency SOS via satellite, this service will be free to use for the first two years when you buy an iPhone 15.
As for the enhancements to UltraWideband and Find My, the iPhone 15 comes with a second-generation UWB chip which offers three times more range than the current UWB chips. Apple claims that this chip is now good enough to help you track down your friends in a crowd, all within the confines (and safety) of the Find My app.
iPhone 15 Pro outlook
The iPhone 15 Pro is set to revolutionize the smartphone industry with its cutting-edge features and impressive performance. With advancements in iPhone camera technology, USB-C compatibility, and overall specs, this iPhone device is poised to be a game-changer. Pre-ordering and activating the iPhone 15 Pro is a breeze, ensuring you get your hands on this incredible device as soon as possible.
But what sets the iPhone 15 Pro apart from its predecessors? The cameras on this iPhone are truly exceptional, capturing stunning photos and videos that will make your memories come alive. Plus, with USB-C support, you can enjoy faster charging and data transfer speeds on your iPhone than ever before.
Looking ahead, the future of iPhones looks brighter than ever with the introduction of the iPhone 15 Pro. This iPhone device pushes boundaries and sets new standards for what an iPhone smartphone can achieve. So don't miss out on being part of this groundbreaking experience – pre-order your iPhone 15 Pro today!
FAQs
Can I use my existing lightning accessories with the iPhone 15 Pro?
Yes! While the iPhone 15 Pro comes with a USB-C port for charging and data transfer, it is also compatible with lightning accessories using an adapter.
Will the battery life be better on the iPhone 15 Pro?
Absolutely! Apple has made significant improvements to the battery life of the iPhone 15 Pro compared to previous models. You can expect longer usage times without compromising performance.
Is it worth upgrading from an older iPhone model to the iPhone 15 Pro?
If you're looking for top-of-the-line features and enhanced performance, upgrading to the iPhone 15 Pro is definitely worth considering. The advancements in iPhone camera technology alone make it a compelling choice for iPhone photography enthusiasts.
Can I pre-order multiple units of the iPhone 15 Pro?
Yes! Apple allows customers to pre-order multiple units of their latest iPhone devices. However, iPhone availability may vary depending on demand, so it's best to check with your local Apple store or authorized retailers.
What colors will the iPhone 15 Pro be available in?
While specific iPhone color options have not been confirmed yet, Apple typically offers a range of stylish and elegant color choices for their flagship iPhone devices. Keep an eye out for announcements closer to the release date.
iPhone 14 Pro Max vs iPhone 15 Pro Max: Specs, Price, and More